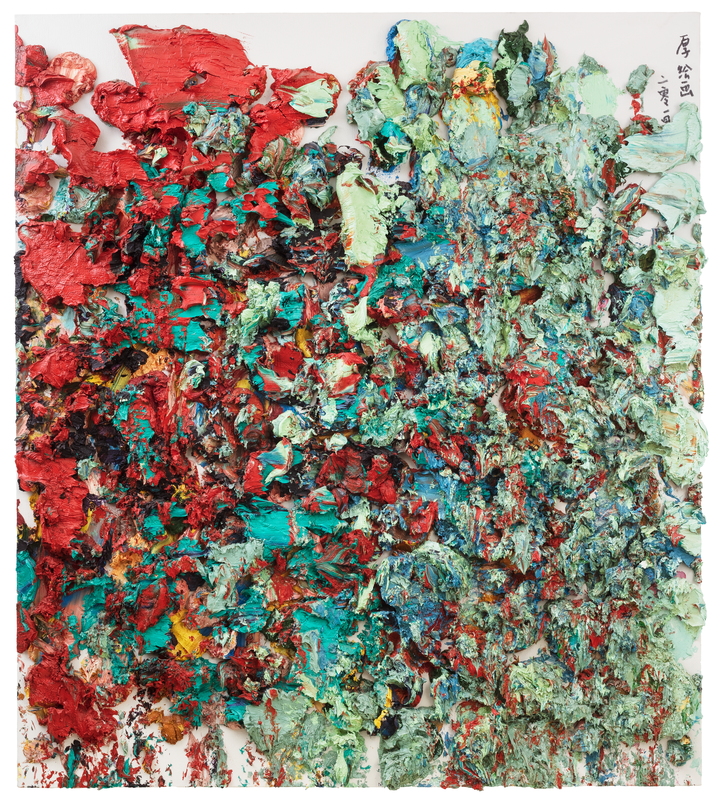 12 Mar 2019
Painting and Existence
Tang Contemporary
Reviewed by Andy Gambrell
"Painting and Existence," on view at Tang Contemporary Art, is a powerful exhibition featuring works by Chinese abstractionists, Korean Danseakhwa artists, and Japanese Gutai painters. The works on display offer the receptive viewer an intuitive master-course in the jubilation of materiality and the exaltation of color.
Most striking with regard to indulgence in the physical mass and viscosity of paint is the work of Zhu Jinshi. Thick Painting (2014) is encrusted with indulgent slabs and gobs of oil paint, some the size and thickness of a human hand. Exquisite tints of mint green on the right side of the painting violently mix with warm reds from the left, along a froth of blue-green tints in the center.
Another pair of knockout works are Korean Monochrome paintings by Yun Hyong-Keun. Delicate washes of ultramarine blue and burnt umber oil paint overlap on raw linen to produce sophisticated, velvety, mountain-like rectangles of black.
| | |
| --- | --- |
| Exhibition | Painting and Existence link |
| Start date | 05 Feb 2019 |
| End date | 16 Mar 2019 |
| Presenter | Tang Contemporary link |
| Venue | 10/F, H Queen's, 80 Queen's Road Central, Hong Kong, CHN map |
| Image | Zhu Jinshi, Thick Painting 2014, oil on canvas, 180 x 160 centimeters, courtesy of the artist and Tang Contemporary |
| Links | Reviews of current exhibitions near this one |
| Share | Facebook, Twitter, Google+ |