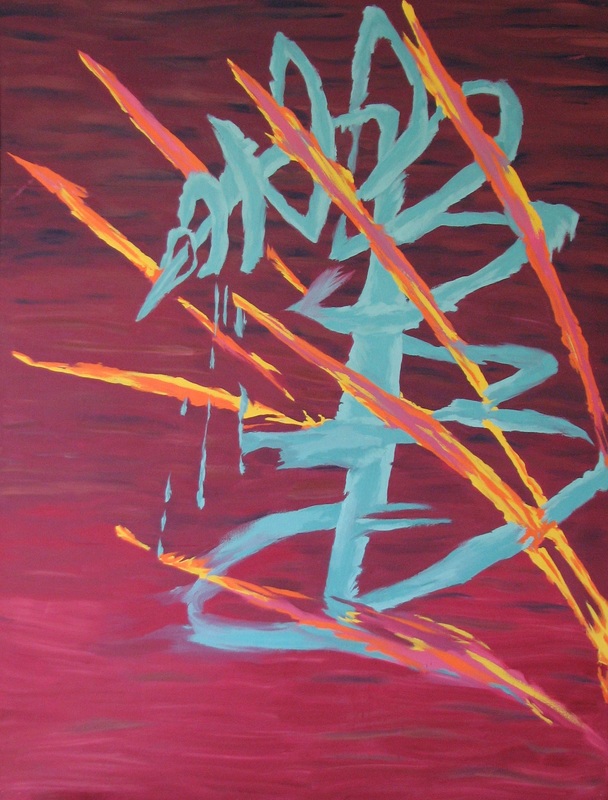 16 Mar 2019
Magnus Johnstone: Larger Works
Nave Gallery, Clarendon Hill Presbyterian Church
Reviewed by Heather Kapplow
This is strange stuff, chunky and surreal. One can see Magnus Johnstone's style shifting radically over time. In the '70s and '80s, the forms swirled and looped, resembling Dr. Seuss on acid. But by the '90s, his shapes began to grow more angular, and in the Aughts, downright fractal. The stylistic reference points are as much sci-fi and aboriginal as they are art historical.
The content is wide-ranging, but all fantastical. Sometimes it's abstract, but the title gives a hint at the inspiration, as in WormWood (1979). Other times, pieces appear abstract at first because it takes a moment for the subject to emerge. Figure-ground distinction is tricky in Johnstone's work, but if you remember the phenomenon of "Magic Eye" images from the '90s, it helps. Wait a moment, for example with Swimming With Dolphins (2010), and you'll see what's going on.
Johnstone (1952-2013) was a much-beloved Boston DJ, so the show also pays homage to him by playing his eclectic radio shows in the background.
| | |
| --- | --- |
| Exhibition | Magnus Johnstone: Larger Works link |
| Start date | 09 Mar 2019 |
| End date | 17 Mar 2019 |
| Presenter | Nave Gallery link |
| Venue | Clarendon Hill Presbyterian Church, 155 Powder House Boulevard, Somerville, MA, USA map |
| Image | Magnus Johnstone, Wormwood, 1979, oil on canvas, 72 x 55 inches, courtesy of the Johnstone Family |
| Links | Reviews of current exhibitions near this one |
| Share | Facebook, Twitter, Google+ |