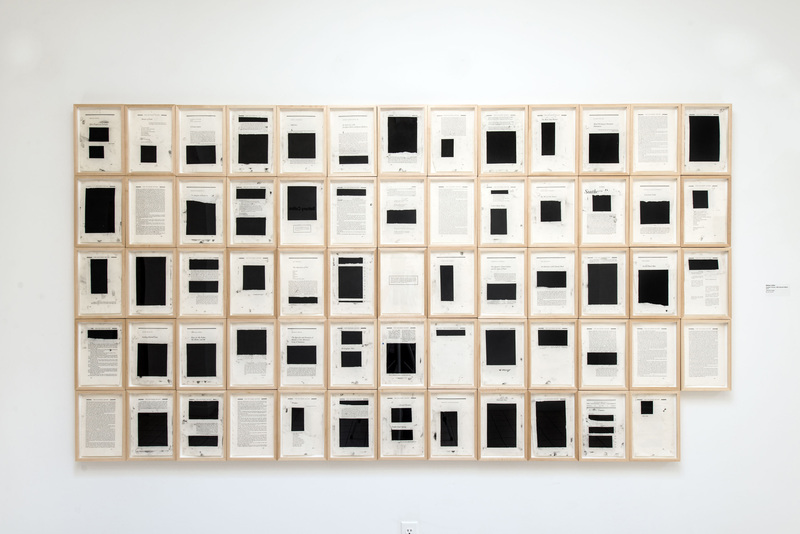 26 Mar 2019
Bethany Collins: A Pattern or Practice
University Galleries of Illinois State University
Reviewed by Anthony Hamilton
In "A Pattern or Practice," Bethany Collins's drawing-based works are a timely reminder of the fragility of language, in a time and place of its questioning.
To paraphrase the artist's words, if language is intrinsically biased it is bound to fail. The works toe this line conceptually, and reinforce it through their installation. Eraser and paper shavings are shown in different areas: under a museum display in Find I, 1982 (2015), left in a trail in Find, 1982 (2016-2017), and preserved in the frames in many of the wall pieces. These are stark reminders of the failure of language similar to the risk an artist takes by showing the disposable detritus of the studio. The evidential tracks of shavings criticize language, but also prove the inability to categorically separate from it.
By highlighting its contradictions, Collins shows the limits of language's power. Contronyms, a subject of a series of wall works, seem an appropriate symbol for the entire process of her work.
| | |
| --- | --- |
| Exhibition | Bethany Collins: A Pattern or Practice link |
| Start date | 15 Feb 2019 |
| End date | 31 Mar 2019 |
| Presenter | University Galleries of Illinois State University link |
| Venue | 11 Uptown Circle, Suite 103, Normal, IL, USA map |
| Image | Bethany Collins, Southern Review, 1985 (Special Edition), 2014-2015, charcoal on paper, 57.5 x 104 inches, collection of Eugene Fu |
| Links | Reviews of current exhibitions near this one |
| Share | Facebook, Twitter, Google+ |