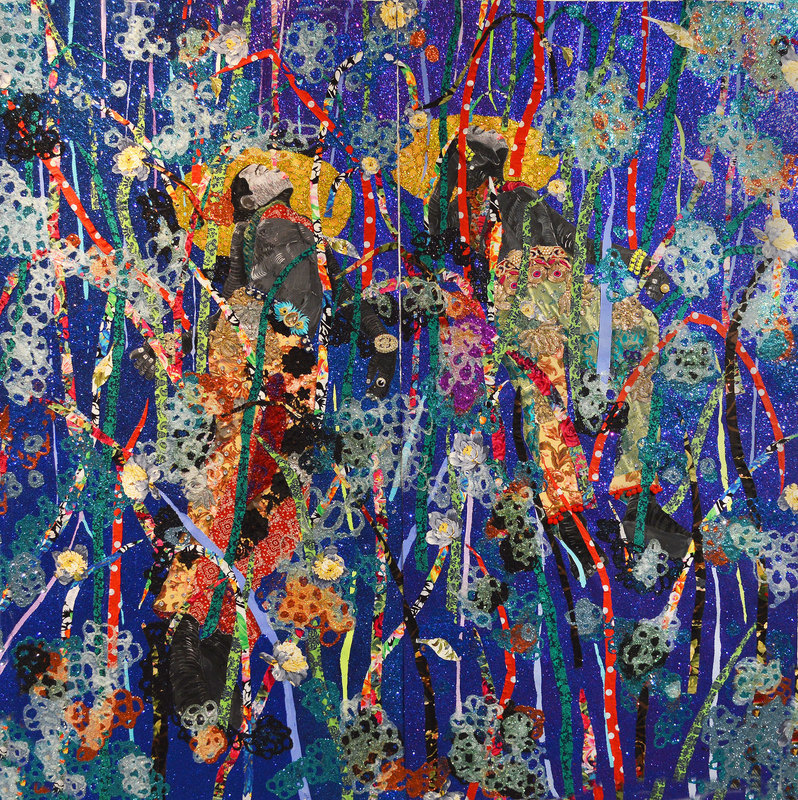 04 Apr 2019
Ebony G. Patterson: ...while the dew is still on the roses...
Pérez Art Museum Miami
Reviewed by Elisa Turner
Ebony G. Patterson creates a nocturnal garden of partly earthly delights. It's seeded with gorgeous, raw reminders of young lives lost. Sensual abundance veers into deep grief, mirroring postcolonial beauty in her native Jamaica.
Her show, placed in a single Pérez gallery, assembles thirteen large works with video, drawing, collage, and sculpture. Glowing in shadowy light, it blooms with artificial flowers reminiscent of a funeral or memorial. Conjuring a vanished Eden, her title quotes a popular gospel lament.
Cheap materials appear precious, like jewel-toned carnival beads and lush, Walmart-made midnight-blue tapestry. Hundreds of women's black shoes are spangled with glitter, suspended overhead. They revisit grim cues signaling gang presence with men's shoes tossed over electrical wires. Released from that dark fate, these shoes seem to dance heavenward.
Dazzling with glitter and roses, ...wata marassa - beyond the bladez (2014) recalls souls of twin boys drowned in a flash flood and delivered to African water spirit Mami Wata.
| | |
| --- | --- |
| Exhibition | Ebony G. Patterson: ...while the dew is still on the roses... link |
| Start date | 09 Nov 2018 |
| End date | 05 May 2019 |
| Presenter | Pérez Art Museum Miami link |
| Venue | 1103 Biscayne Boulevard, Miami, FL, USA map |
| Image | Ebony G. Patterson, ...wata marassa - beyond the bladez..., 2014, mixed media on paper, 85 x 84 inches, collection of Doreen Chambers and Philippe Monroguie, Brooklyn, NY, courtesy of the artist and Monique Meloche Gallery, Chicago |
| Links | Reviews of current exhibitions near this one |
| Share | Facebook, Twitter, Google+ |