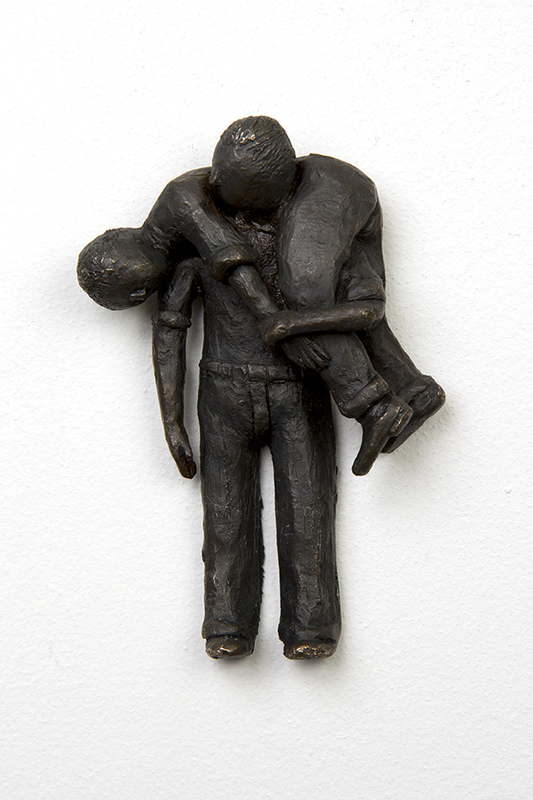 06 Apr 2019
Carol Saft: Fallen Men
Lesley Heller Gallery
Reviewed by Elizabeth Johnson
Carol Saft's small-scale bronze figures convey loss by promoting fellow feeling.
Interestingly, the drama of loss is sidelined as Saft focuses on gestures of caring, assistance and sympathy. Reminiscent of 19th-century fairy tale characters, her modest figures radiate goodness, and lack determinate sex, individual personality, or facial expression. Bird-beak noses indicate the direction of attention. Legs, arms, and hands touch and bend as they would feel rather than as they would appear. The anatomical liberties elevate small kindnesses and intimacy to a plane of higher importance.
Saft models the figures in wax on a small board with a penknife warmed by a candle, pitching each figure's center of gravity high, hidden between the shoulder blades. Weightless below, the brown-black bronzes float or hover on white walls, creating a magic aura continuous with softly rounded, cast shadows. Being emotional, the work reads extremely quickly, and like a fable, it cannot be dislodged.
| | |
| --- | --- |
| Exhibition | Carol Saft: Fallen Men link |
| Start date | 20 Feb 2019 |
| End date | 07 Apr 2019 |
| Presenter | Lesley Heller Gallery link |
| Venue | 54 Orchard Street, New York City, NY, USA (between Grand and Hester streets) map |
| Image | Carol Saft, Fireman's Carry, 2017, bronze, 6 x 3.5 x 2 inches, courtesy of Lesley Heller Gallery |
| Links | Reviews of current exhibitions near this one |
| Share | Facebook, Twitter, Google+ |