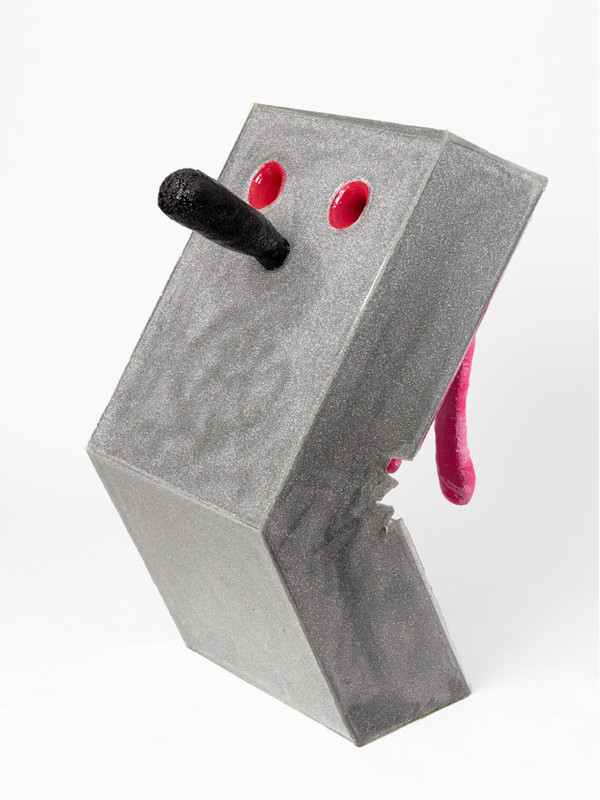 10 Apr 2019
Harry Dodge: Works of Love
Tufts University Art Galleries, School of the Museum of Fine Arts at Tufts
Reviewed by John Pyper
So you know your puerile drinking buddies who make sure you regret last night? The work of Harry Dodge looks like that feels: manic energy, spontaneous moments, art one-liners, and a budget that borders on obscenity.
Pieces like Fuck Me/Who's Sorry Now, Pure Shit Hotdog Cake, or Black Transparency (The Cloud Polis draws revenue from the cognitive capital of its Users) rely on rash colors, dick and poop jokes, and purposeful (but criminally) inept finish (those terrible welds on Strange Loop particularly stand out). They feel like juvenile stabs at uptight grad professors during a crit. If these sculptures are the answer, then the question is probably, "What would Martin Puryear not do?"
This impetuous show is both significant and forgettable. It is filled with examples of college-educated deskilling and lackadaisical machismo, yes, but, hiding under the blasé pretense is a properly detailed list of sculpture's formalist rules in obverse. In the end, Dodge's posturing is deeply knowledgeable and is unconvincing as a failure. The work is too smart to be as fatuous as it looks.
| | |
| --- | --- |
| Exhibition | Harry Dodge: Works of Love link |
| Start date | 17 Jan 2019 |
| End date | 14 Apr 2019 |
| Presenter | Tufts University Art Galleries link |
| Venue | School of the Museum of Fine Arts at Tufts, 230 The Fenway, Boston, MA, USA map |
| Image | Harry Dodge, fuck me/who's sorry now (consent-not-to-be-a-single-being series), 2015, 24 x 40 x 30 inches, polyester resin, metallic rainbow glitter, socks, plywood, paint, courtesy of the artist |
| Links | Reviews of current exhibitions near this one |
| Share | Facebook, Twitter, Google+ |