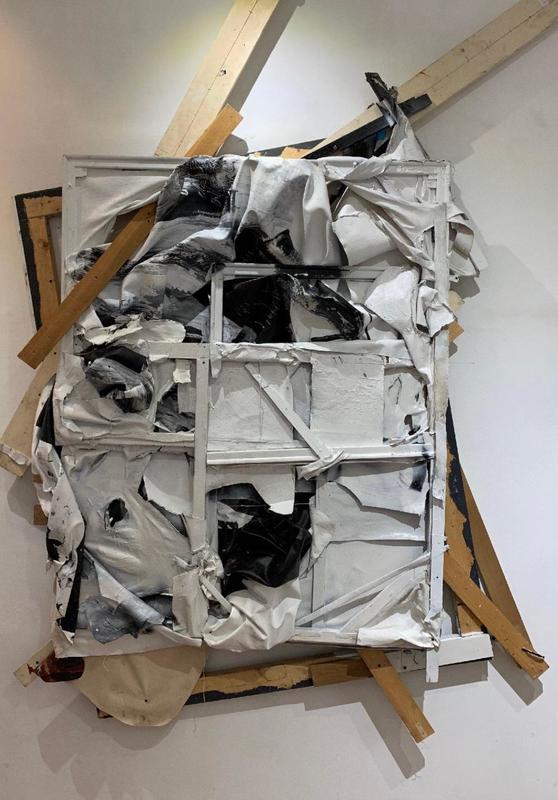 27 Apr 2019
Born Female
Lazy Susan Gallery
Reviewed by William Corwin
"Born Female" is an unapologetic shout that resonates, disgusts, and inspires horror, fear, and shame. Curated by Mariana Oushiro, the five artists span a spectrum of approaches to topics that aren't pretty - violence and abuse - and produce art that is painful but necessary.
Jeannie Friedman's works of wall-hung lumber and girl's clothing are assemblages of splinters and rips. Lau Nato uses blankets and coat hangers to render an claustrophobic envelope of bodily secretions, implying misplaced shame. Florentina offers levity with lugubrious, glistening mounds of phalluses in The Hierarchy (2017), its dark subtext eliciting a nervous giggle. Cecilia Monteverde's Mujeres sumidas (2019) is a cage of dirt and worse, forming a protective cave for a hiding figure.
Oushiro's work is a painterly, less visceral interpretation of insecurity as torn and scrunched canvas, wedged in a stretcher-bar cage of a different kind in One day the wild will come to MoMA (2019). The show is overwhelming, but the sense that it is righteous and not gratuitous makes the pain worth suffering.