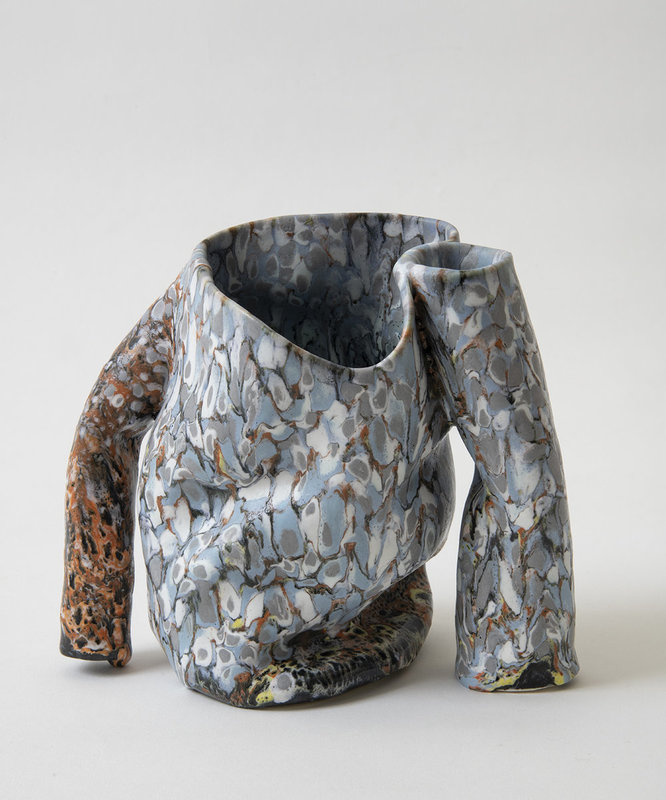 23 Jul 2019
Elisa D'Arrigo: In the Moment
Elizabeth Harris Gallery
Reviewed by Jill Nathanson
Each improvisational work in Elisa D'Arrigo's exhibition of ceramic sculpture is not only a piece of art to be seen, but a newly minted being to meet.
The sculptures have an off-balance, arrived-at posture, as if paused in a dance. Various cylinder-based forms, partially collapsed, often need the support of appendages. They struggle to stay lifted while glaze colors dribble down the interiors and exteriors. These vessel-beings are funny and beautiful, slapstick and mysterious.
D'Arrigo says, "I try to find what I want in the piece, through the process." This process involves forming, crushing, and pulling. Multiple firings and risky applications of glazes further transform the works.
In Stancer (2018), form is an effort against slackening or collapse. The gorgeous mixing of blue-gray and rust feels like the work's essence, its struggle to stay intact. Color, light, and form hold outside and inside together, just enough.
| | |
| --- | --- |
| Exhibition | Elisa D'Arrigo: In the Moment |
| Start date | 30 Mar 2019 |
| End date | 11 May 2019 |
| Presenter | Elizabeth Harris Gallery link |
| Venue | 529 West 20th Street, New York City, NY, USA map |
| Image | Elisa D'Arrgio, Stancer, 2018, glazed ceramic, 7 x 7.5 x 5.5 inches, courtesy of Elizabeth Harris Gallery |
| Links | Reviews of current exhibitions near this one |
| Share | Facebook, Twitter, Google+ |