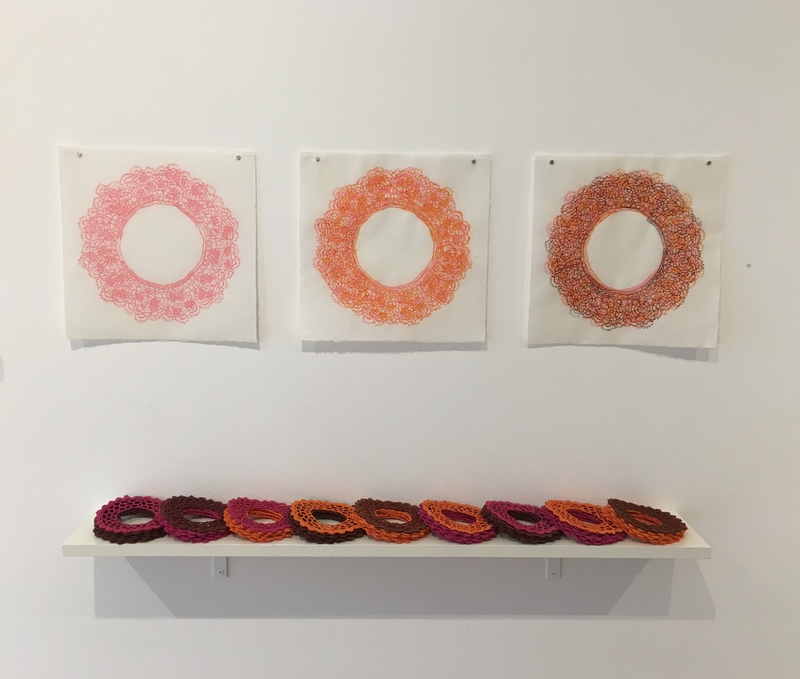 16 Sep 2019
Donuts
Lincoln Arts Project
Reviewed by Elizabeth Michelman
A donut shop in a storefront, sure. But a donut gallery? More theme than meme, the 56 works gathered by curators Anneloes van Beek and Angela DeVesto engage gracefully and humorously with the torus, a fancy mathematician's word for ring. Abstraction predominates. In Wendy Wolf's paintings, blue-green dotted ovoids proliferate like microscopic colonies under the ocean surface.
Sculptures range from the elegant (Alexander Bauer's thin black tire studded on the interior with pearl hatpins) to the absurd and perhaps political (Michael Foerster's cuddly, stuffed, orange cheese-curl with smiley face and flat feet).
Antoinette Winters's DD Redux (2019) pokes holes in our easy swallowing of commercial symbols, "food" sold to us through presentation and branding, and the mass production that crowds out art. Neatly piled crocheted doilies, painted in standard Dunkin' Donuts shades of rose and orange, spread across a narrow shelf. Above flutter three acrylic drawings on rice paper, lacy rings in matching hues, whose delicate linear traceries accentuate a central void.
Exhibition
Donuts
Start date
06 Sep 2019
End date
18 Oct 2019
Presenter
Lincoln Arts Project link
Venue
289 Moody Street, Waltham, MA, USA map
Image
Antoinette Winters, DD Redux, 2019, enamel paint, found doilies, acrylic ink, rice paper, 30 x 40 x 5.5 inches, photo by Elizabeth Michelman
Links

Reviews of current exhibitions near this one

Reviews by Elizabeth Michelman

Share
Facebook, Twitter, Google+