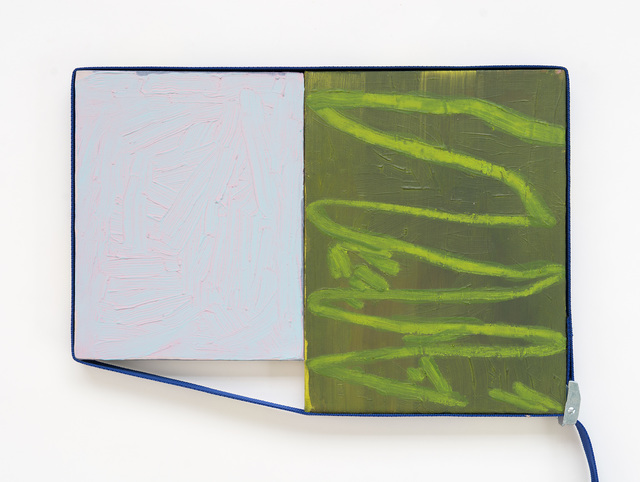 24 Sep 2019
Ian White Williams: Twos
Proto Gomez
Reviewed by Elizabeth Johnson
Two paintings snugged together by a Thule brand cargo strap dominate "Twos," a show of new paintings by Ian White Williams.
Blues and pinks on the smaller, left canvas and gestural earthy greens on the right tolerate or mildly reject each other. The work blurs the gap between shared and unshared feelings, while joking that all relationships and personal lives feel forcibly held together. Titled Asilene (2019), the paired but incongruent surfaces may refer to the small, white Silene flower, or the rare forename. Besides being an outdoorsy brand, Thule is also the northernmost island of antiquity and an Air Force base in the Arctic Circle. "Ultima Thule" is a mythical place beyond the borders of the known world.
Contemplating the words Asilene and Thule with these two surfaces is a deliberate dead end that forces exploration beyond meaning. The work of "Twos" is provisional. It profitably isolates abstract shapes and color and sells low expectations, though the desire to navigate limbo passes swiftly.
| | |
| --- | --- |
| Exhibition | Ian White Williams: Twos |
| Start date | 07 Sep 2019 |
| End date | 29 Sep 2019 |
| Presenter | Proto Gomez link |
| Venue | 13 Monroe Street, New York City, NY, USA map |
| Image | Ian White Williams, Asilene, 2019, oil on linen with strap clamp, 12 x 17 inches, photo to Nick De Pirro, courtesy of Proto Gomez |
| Links | Reviews of current exhibitions near this one |
| Share | Facebook, Twitter, Google+ |