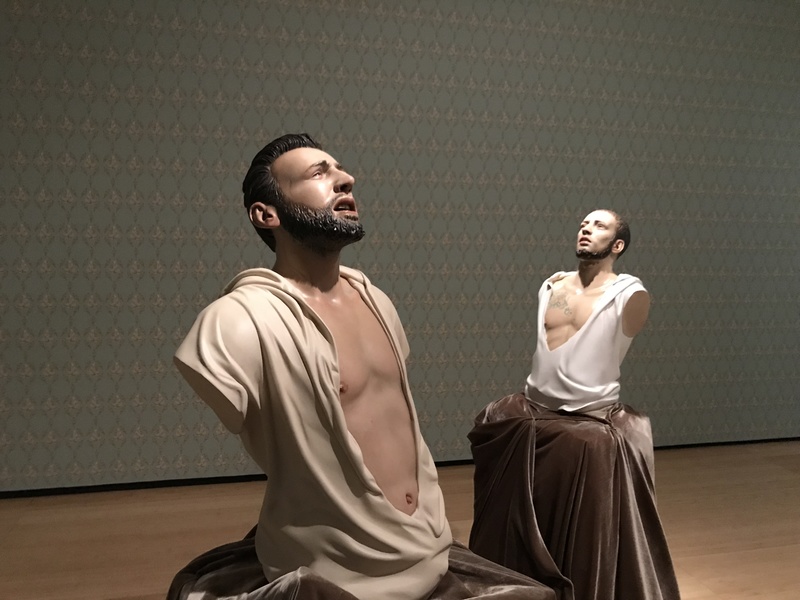 25 Sep 2019
Reza Aramesh: 12 noon, Monday 5 August, 1963
Asia Society
Reviewed by William Corwin
Carved with disarming realism in limewood, Reza Aramesh's four male figures channel the suffering of medieval martyrs and invoke the crystal tears of Van der Weyden. They are commemorative busts, with plinths billowing in brown velvet.
The precise carving and painting depicts every strand of hair, the red eyes, and the rough edges of fabric in the hoodies and tunics of these men caught in the ecstatic moment of expiration. All four are portraits of dying men on specific dates, drawn from press images. The bare chests perhaps indicate a gesture of penance. Captured is not just the crime of their deaths, but also the sins they may have carried with them to the grave.
Aramesh is in debt to Robert Gober, who used the replication of flesh in statuary to much the same effect. Aramesh has also taken a cue from Gober in lining the interior of the room with meticulously crafted wallpaper. From afar it seems like an innocuous Rococo pattern on a field of Tiffany blue, but it depicts a masked hostage surrounded by naked men, calling to mind the evils of both Abu Graib and ISIL.
| | |
| --- | --- |
| Exhibition | Reza Aramesh: 12 noon, Monday 5 August, 1963 link |
| Start date | 05 Mar 2019 |
| End date | 04 Aug 2019 |
| Presenter | Asia Society link |
| Venue | 725 Park Avenue, New York City, NY, USA map |
| Image | Installation view, Reza Aramesh: 12 noon, Monday 5 August, 1963, photo by William Corwin |
| Links | Reviews of current exhibitions near this one |
| Share | Facebook, Twitter, Google+ |