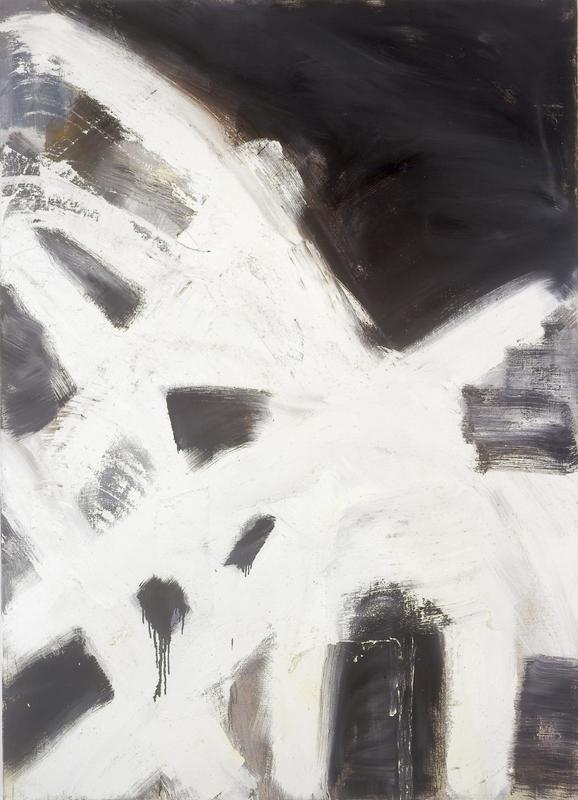 26 Sep 2019
Emphatic: American Painting from the Collection
Krannert Art Museum, University of Illinois at Urbana-Champaign
Reviewed by Alan Pocaro
Organized around the expressive potential and supreme flexibility of paint, "Emphatic" presents nine works from the Krannert Museum's extensive permanent collection. Selections highlight the diversity that characterizes postwar approaches to the medium, underscoring formal inventiveness and thematic incongruity.
Fallen Warrior (1968), a gut-wrenching work by Leon Golub, rests warily across from an aggressive abstraction by Louise Fishman. One an indictment of violence, the other a grayscale celebration of hedonism, both works are touched with equally ecstatic strokes of oil on canvas. A vaporous 1949 multiform by Rothko is paired with a crisp, Pop-inflected painting by Robert Indiana. Occupying different ends of the conceptual spectrum, the two canvases nonetheless share unbroken surfaces of thin paint. Latecomers will have to settle for a lusciously brushed but undeniably average work by Philip Guston now on display in lieu of David Park's exceptional Standing Couple (1958).
A satisfying preview, "Emphatic" portends favorably for the museum's August reinstallation.
| | |
| --- | --- |
| Exhibition | Emphatic: American Painting from the Collection link |
| Start date | 08 Feb 2019 |
| End date | 12 May 2019 |
| Presenter | Krannert Art Museum link |
| Venue | University of Illinois at Urbana-Champaign, 500 East Peabody Drive, Champaign, IL, USA map |
| Image | Louise Fishman, Blonde Ambition, 1995, oil on linen, 90 x 65 inches, museum purchase through the John N. Chester Fund and the Richard M. and Rosann Gelvin Noel Fund, photo courtesy of the Krannert Art Museum |
| Links | Reviews of current exhibitions near this one |
| Share | Facebook, Twitter, Google+ |