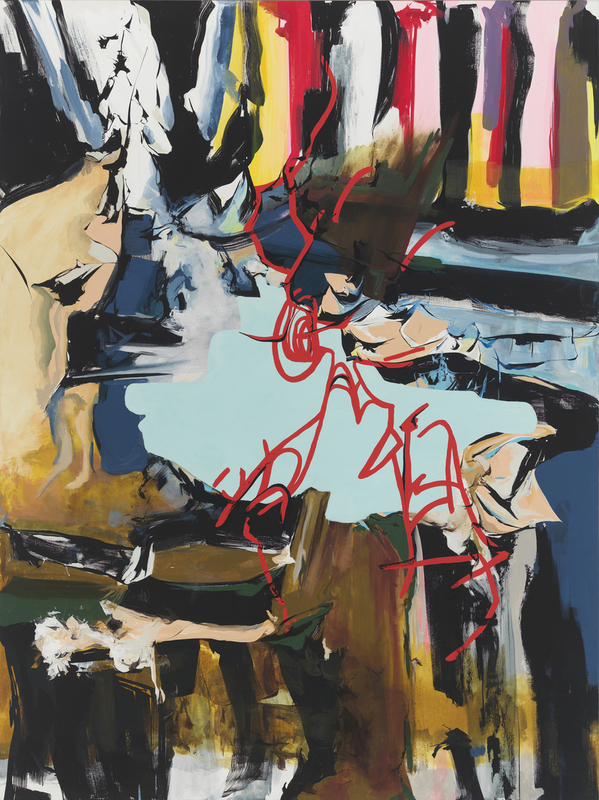 20 Nov 2016
Kim Piotrowski: Pushing Corners
Linda Warren Projects
Reviewed by Alan Pocaro
Glistening with metallic leaf, iridescent medium, and interference paint, the brilliant hues that adorn Kim Piotrowski's works vibrate like the walls of the Morgan Street Station as the Green Line zips overhead.
While Piotrowski's trademark blend of slashing calligraphic strokes and washes of matte flashe and acrylic ink are on full display, the painterly spaces, which in the past have felt claustrophobic, are decidedly less cluttered and the reference points are distinctly more figurative. Beginning as two cream-colored legs that transform into the folds of a deep burgundy dress, The Wait (2016) erupts in an orgy of short, frenetic marks.
In the evocatively titled Secrets of the Creek (2016) Piotrowski eschews the terse gestures, instead unfurling broad, alternating bands of electric red, pink, and yellow fusing with the cool blue of an isolated pond. A metaphor for the artist's vision, the clarity of the lagoon is respite from the luminous exhibition's shivering tumult.
| | |
| --- | --- |
| Exhibition | Kim Piotrowski: Pushing Corners link |
| Start date | 28 Oct 2016 |
| End date | 10 Dec 2016 |
| Presenter | Linda Warren Projects link |
| Venue | 327 N. Aberdeen, Suite 151, Chicago, IL, USA (southeast corner of Aberdeen and Carroll) map |
| Image | Kim Piotrowski, Secrets of the Creek, 2016, acrylic ink, acrylic paint, and flashe on canvas, 72 x 54 inches, courtesy of Linda Warren Projects |
| Links | Reviews of current exhibitions near this one |
| Share | Facebook, Twitter, Google+ |