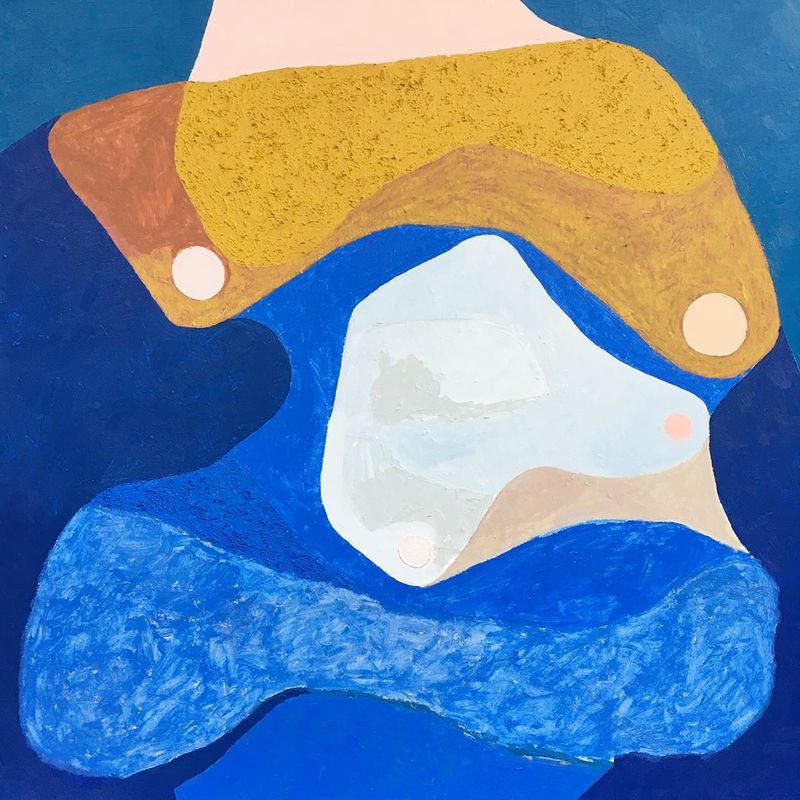 11 May 2017
Scout Dunbar: In the Ring
Ink Shop
Reviewed by Arthur Whitman
A voraciousness towards art's material quiddity characterizes the work of Brooklyn-by-way-of-Ithaca artist Scout Dunbar. Dunbar devours drawing, painting, printmaking, papermaking, paper sculpture, and collage with rigor and élan. Echoing Klee and other high modernists, her art is nonetheless utterly current.
"In the Ring" pays homage to her childhood on a family farm. Many pieces allude to horses and saddles.
Two canvases, Breasted Figure and Baby Blue, combine Picasso-like bodily abstraction with an unusual fullness of color. A row of three Saddle Series sheets – unframed to emphasize the rough, handmade paper – blend splotchy black ink transfer drawing with pale, ethereal color in pastel and colored pencil.
A shelf carries a parade of tiny, toy-like horses and shapes in self-hardening clay with paint and paper collage. Bursting with colors and patterns, they serve as emblems for this exuberant exhibit.
| | |
| --- | --- |
| Exhibition | Scout Dunbar: In the Ring link |
| Start date | 05 May 2017 |
| End date | 24 Jun 2017 |
| Presenter | Ink Shop link |
| Venue | 330 E. State Street, Ithaca, NY, USA map |
| Image | Scout Dunbar, Breasted Figure, 2017, paint, sand, and oil pastel on canvas, 24 x 24 inches, courtesy of the artist |
| Links | Reviews of current exhibitions near this one |
| Share | Facebook, Twitter, Google+ |