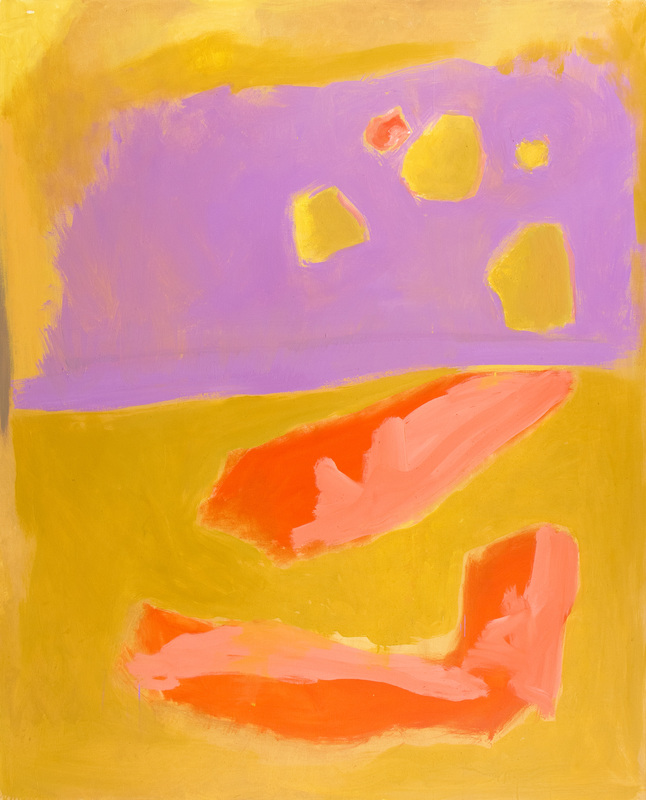 09 Oct 2019
Esteban Vicente
Jerald Melberg Gallery
Reviewed by Andy Gambrell
A luminous exhibition of eighteen lyrical paintings and collages by Esteban Vicente is on view at Jerald Melberg Gallery in Charlotte. Dynamic impastoed works from the 1960s juxtapose with cool paintings from the 1990s that present glowing color in timeless compositions.
In many of the works from the Nineties, such as Evocation (1995), floating shapes with nonchalantly scruffy edges hover over warm, neutral backgrounds. An almost chalky finish on the paint allows colors to glow from within the canvases. The floating hues would be as much at home in a sublime sunset as in a bowl of sherbet.
Vicente's careful control of the scale of forms relative to the size of the canvases results in monumental presence. In Ideal Forms (1999), negative ochre spaces within a rectangular lavender form become positive masses because of deftly placed marks modeling the contours. This impulsive playfulness serves as a perfect counterpoint to Vicente's poetic gravitas.
| | |
| --- | --- |
| Exhibition | Esteban Vicente |
| Start date | 14 Sep 2019 |
| End date | 02 Nov 2019 |
| Presenter | Jerald Melberg Gallery link |
| Venue | 625 South Sharon Amity Road, Charlotte, NC, USA map |
| Image | Esteban Vicente, Ideal Forms, 1999, oil on canvas, 52 x 42 inches, photo courtesy of Jerald Melberg Gallery |
| Links | Reviews of current exhibitions near this one |
| Share | Facebook, Twitter, Google+ |