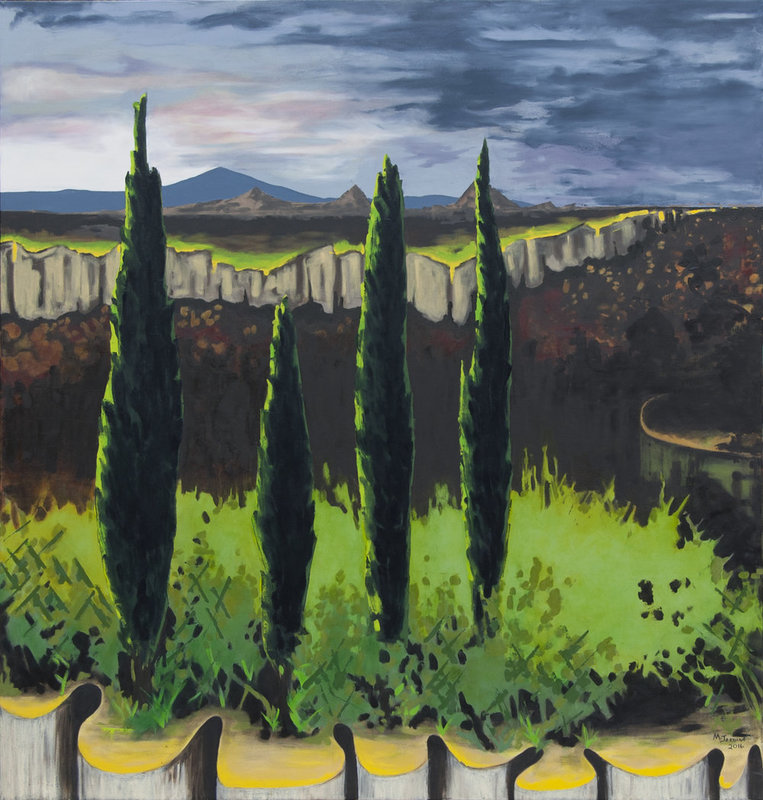 16 Oct 2019
Minnie Jardine: Coming to Terms
Community Arts Partnership ArtSpace
Reviewed by Arthur Whitman
Minnie Jardine's latest show in the recently relocated ArtSpace gallery expands her focus. Here her oils range from signature portraits and details of trees to grander vistas recollecting recent time spent in Japan and the American Southwest.
Utopian Dream (2016) envisions Arcosanti, Arizona, the life-project of visionary modernist architect Paolo Soleri. But as elsewhere here, it's the natural landscape that captures Jardine's primary attention. Sandwiched between a distant cliff and a scalloped foreground wall, three tall poplars stand sentry, backs to the viewer and facing leftwards. Acid green highlights play off darker and more muted colors.
Her Approaching Ise Shrine works from 2017 move in uncomfortably close. Fat trunks (perhaps the same in each) nearly fill the foreground of the upright canvases, skinnier trees flanking to the left and right. Tiny blocks of white light puncture the scene, hinting at a distant horizon. Cryptic dashes of reddish brown and smudged green form highlights, making the murky bodies read almost as voids.
| | |
| --- | --- |
| Exhibition | Minnie Jardine: Coming to Terms |
| Start date | 01 Jun 2019 |
| End date | 30 Jun 2019 |
| Presenter | Community Arts Partnership ArtSpace link |
| Venue | 110 N. Tioga Street, Ithaca, NY, USA map |
| Image | Minnie Jardine, Utopian Dream, 2016, oil on canvas, 69 x 73 inches, courtesy of the artist |
| Links | Reviews of current exhibitions near this one |
| Share | Facebook, Twitter, Google+ |