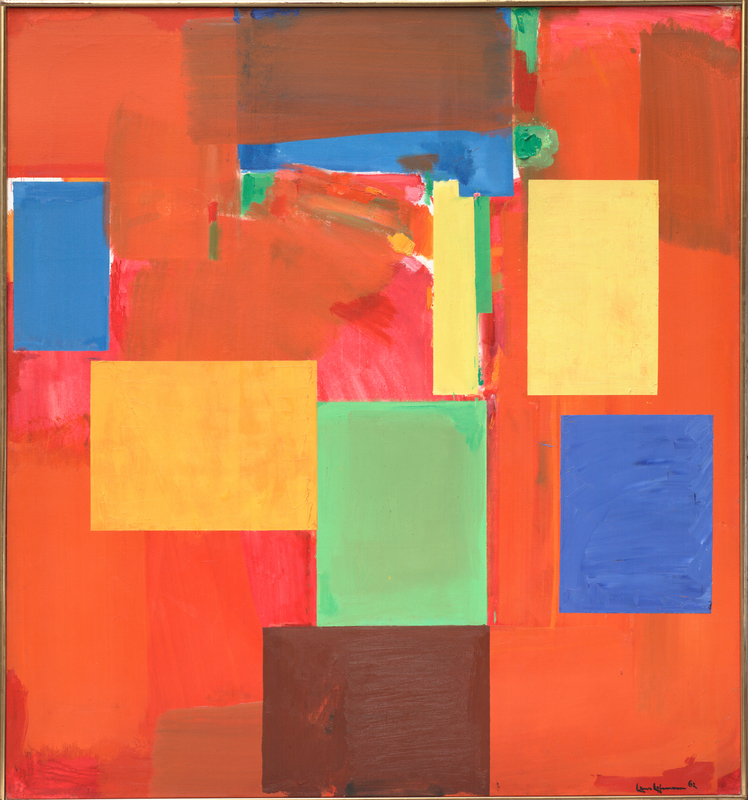 17 Oct 2019
Hans Hofmann: The Nature of Abstraction
Peabody Essex Museum
Reviewed by Franklin Einspruch
The connection of Hans Hofmann to the region, namely his famous school in Provincetown, makes "The Nature of Abstraction" something of a homecoming. It affords an opportunity to lay eyes on some top-shelf Hofmanns from Berkeley and beyond.
Unfortunately, it sometimes seems that no gimmick is too dopey for the PEM's exhibition designers. (Isn't that the same beach recording that they piped into the 2016 Childe Hassam show?) In addition to a hatred of silence, they have developed a penchant for twisting but unidirectional layouts that inhibit exploration, literal and otherwise. Blame them, not the art, for the claustrophobia.
Hofmann exemplifies the artist who abstracts his way out of the figurative tradition. That sense of principles enabled him to use astonishingly saturated colors in garish combinations that cohere on the wall in spite of themselves. To borrow a phrase, even Pollock in all his glory was not arrayed like one of these. The late works, especially Sanctum Sanctorum (1962), are a master class on how to organize a rectangle with straightforward finesse.
| | |
| --- | --- |
| Exhibition | Hans Hofmann: The Nature of Abstraction link |
| Start date | 21 Sep 2019 |
| End date | 05 Jan 2020 |
| Presenter | Peabody Essex Museum link |
| Venue | 161 Essex Street, Salem, MA, USA map |
| Image | Hans Hofmann, Sanctum Sanctorum (Holy of Holies–Holy Place), 1962, oil on canvas, University of California, Berkeley Art Museum and Pacific Film Archive, gift of the artist, © The Regents of the University of California, courtesy of Renate, Hans and Maria Hofmann Trust/Artists Rights Society (ARS), New York |
| Links | Reviews of current exhibitions near this one |
| Share | Facebook, Twitter, Google+ |