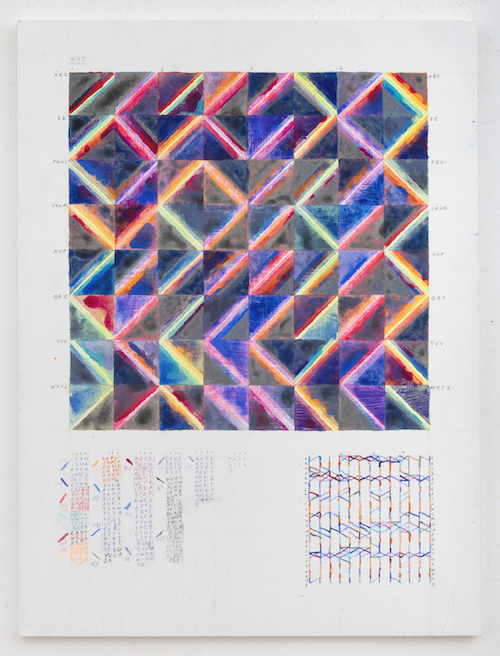 25 Oct 2019
Leslie Roberts: How Things Are
Minus Space
Reviewed by Dana Gordon
Leslie Roberts makes fresh, geometric color-structures, using formula-based systems that turn out oddly poetic. Outside of art, such systems are mainly put to utilitarian purposes. Yet, like math, they may possess a deep, internal beauty that can be revealed.
Roberts creates algorithms to transform lists of words and phrases into rules that she extends intuitively to make unique, unexpected, mysterious, and slightly broken patterns. She finds the verbal material in everyday sources, such as signs on the subway. She also presents the lists and algorithms themselves in a sidebar in the artwork.
Hard-edge abstraction thrived through much of the 20th century with varying degrees of art-world appreciation. Roberts inserts an intriguing twist - a new kind of content, really - into this style of insistently optical painting by the added interaction of found language, and a controlling structure that is neither verbal nor visual. This gives the work an unusual, seductive snap.
| | |
| --- | --- |
| Exhibition | Leslie Roberts: How Things Are link |
| Start date | 07 Sep 2019 |
| End date | 26 Oct 2019 |
| Presenter | Minus Space link |
| Venue | 16 Main Street, Brooklyn, NY, USA map |
| Image | Leslie Roberts, Why, 2019, acrylic gouache, colored pencil, ink, and graphite on gessoed panel, 24 x 18 inches, courtesy of Minus Space |
| Links | Reviews of current exhibitions near this one |
| Share | Facebook, Twitter, Google+ |