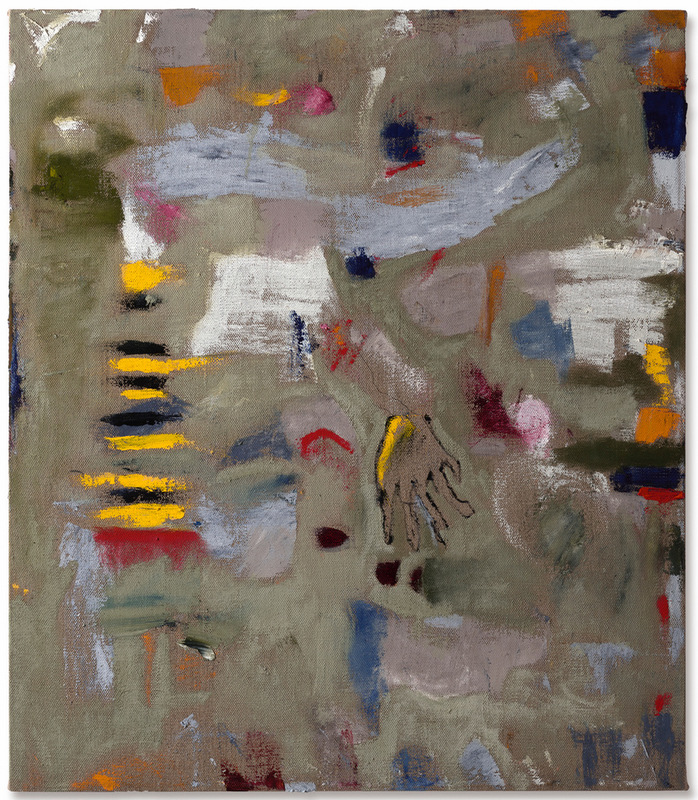 04 Nov 2019
Jo Ann Rothschild: Only Your Loves Matter
A R E A at The Yard
Reviewed by Elizabeth Michelman
Jo Ann Rothschild's abstractions have found anchor for five decades in actual or implied grids. She deftly maps color and emotion onto an imaginary space in a search to balance self-inquiry, self-control, and self-knowledge.
This retrospective displays powerful early paintings and engravings that secured Rothschild the MFA's first Maud Morgan Prize in 1993 but omits the long series of multihued patchworks that followed. Her next campaign to unify and pacify the irrepressible brought forth the Greatest Painting In the World (2000). The ensuing works struggle to master complex psychological space. But from the depths of puddles, thickets, and scraped clearings burst gleams of color, precious salvage from a desert of darkness.
Rothschild has recently begun importing body parts, so an outstretched palm at the center of Little Surprise (2018) may raise no eyebrows. But is the gray smear at the upper left an accident? Possibly lifted from a Rembrandt portrait, it recalls an older woman's peering eye - perhaps inviting us to search with her beyond the corners of the frame for meaning.
Exhibition
Jo Ann Rothschild: Only Your Loves Matter
Start date
08 Sep 2019
End date
31 Dec 2019
Presenter
A R E A at The Yard link
Venue
120 St. James Avenue, Boston, MA, USA map
Image
Jo Ann Rothschild, Little Surprise, 2018, oil on Linen, 36 x 24 inches, courtesy of the artist
Links

Reviews of current exhibitions near this one

Reviews by Elizabeth Michelman

Share
Facebook, Twitter, Google+