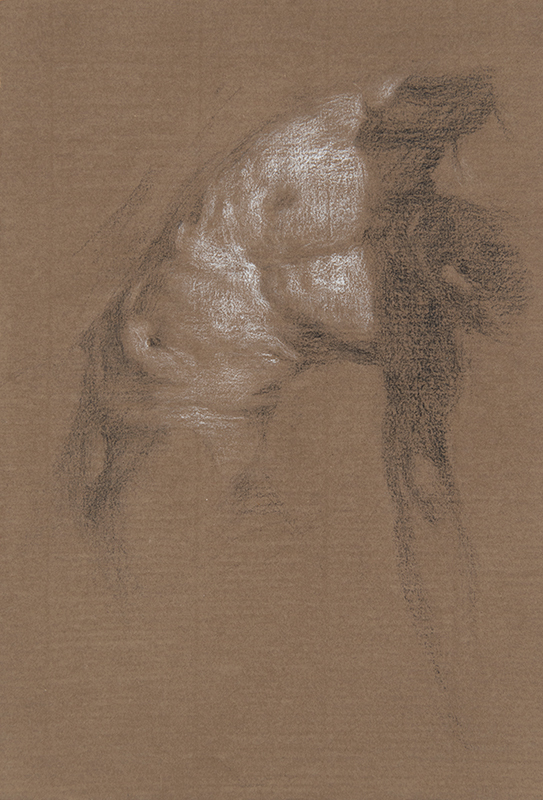 06 Dec 2019
Wendy Artin: Révèle
Gurari Collections
Reviewed by Danielle Alyssa Boudrot
Wendy Artin's latest exhibition, "Révèle," explores the human form in all its glory. The 75 new watercolors and chalk-and-charcoal drawings capture both nude models and classical statuary. With a masterful, nuanced hand, she examines and celebrates every shape, contour, and texture.
Her exploration of chalk and charcoal on brown paper is a new adventure. Although a contrast from her translucent watercolors, she achieves a similar sense of lightness. The dark paper provides a rich, earthy foundation for the drawing. She captures the poses of a male model as unique movements in time, with precision, yet freedom. Light and shadow accentuate every muscle. We dance with the form, in a partnership with both artist and subject. Even with only a fragment in view, Artin reveals the sublime beauty of the human body, in all its complexity and imperfection.
Reminiscent of Bach or Keats, every brushstroke, every line, has meaning and purpose. What results is composed, deeply layered works of art. There is no noise, no chaos, no excess, just the soul of the subject exposed.
Exhibition
Wendy Artin: Révèle link
Start date
01 Nov 2019
End date
08 Dec 2019
Presenter
Gurari Collections link
Venue
460B Harrison Avenue, Boston, MA, USA map
Image
Wendy Artin, Alex Stretch, 2018, charcoal and white chalk on Fabriano Roma paper, 7 x 10 inches, courtesy of the artist
Links

Reviews of current exhibitions near this one

Reviews by Danielle Alyssa Boudrot

Share
Facebook, Twitter, Google+