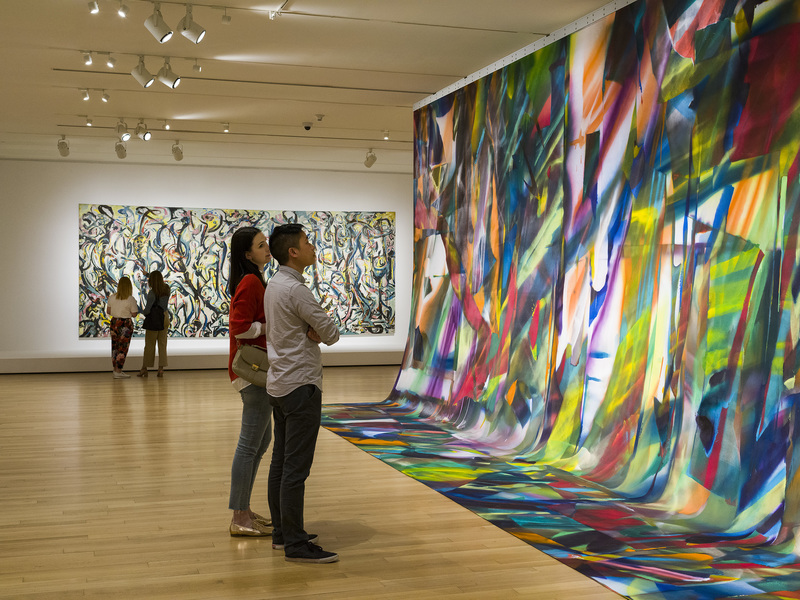 13 Dec 2019
Mural: Jackson Pollock | Katharina Grosse
Museum of Fine Arts, Boston
Reviewed by Franklin Einspruch
The MFA has installed Jackson Pollock's Mural (1943) at one end of the Rabb Gallery, and given the rest of the space to a specially commissioned painting by Katharina Grosse. The Pollock is a masterpiece of exuberance made convincing through subtle coloration and authoritative drawing. The Grosse is art-school work executed at art-star proportions. Next to Mural, it looks idiotic.
Postwar American abstraction has had to endure a lot of disdain as a prolonged exercise in machismo. But it would be hard to imagine a more exaggerated act of empty swagger than loading industrial sprayers with the hues of the color wheel, ejaculating them all over 48 feet of canvas, and hanging the results on the floor like a bath towel flung over the side of a tub. That level of comic masculinity required a German feminist whose painting combines everything that's wrong with Sam Gilliam with everything that's wrong with Sam Francis with everything that's wrong with airbrushing.
The curators and the artist's mega-galleries want to imply lineage. Alas, progeny are progeny even if stunted.
| | |
| --- | --- |
| Exhibition | Mural: Jackson Pollock | Katharina Grosse link |
| Start date | 01 Jul 2019 |
| End date | 23 Feb 2020 |
| Presenter | Museum of Fine Arts, Boston link |
| Venue | 465 Huntington Avenue, Boston, MA, USA map |
| Image | Installation view, Mural: Jackson Pollock | Katharina Grosse, courtesy of the Museum of Fine Arts, Boston |
| Links | Reviews of current exhibitions near this one |
| Share | Facebook, Twitter, Google+ |