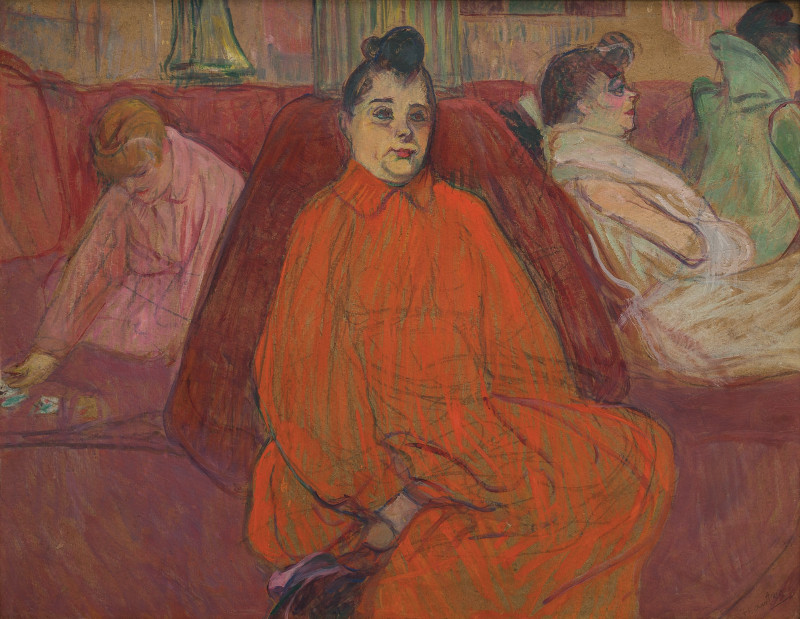 19 Dec 2019
Toulouse-Lautrec: Resolutely Modern
Réunion des musées nationaux - Grand Palais
Reviewed by Dana Gordon
Henri de Toulouse-Lautrec used his extraordinary talent, and unfettered entree as an aristocrat, to celebrate the vitality and record the reality of the demimonde of entertaining women (mostly) and wealthy men (mostly) of fin de siècle Paris. His endlessly astonishing inventiveness is exemplified in a modest work on paper with a huge, startling, abstract red shape - at second glance, a gown - played against a small, incisive study of star performer Yvette Guilbert's extroverted face.
"Resolutely Modern" generously displays both his innovative graphic work and his rich painting style, mediums which he approached differently, owing to their distinct natures and histories.
An annex to the Lautrec show is a hand-colored film by the Lumière brothers of Loie Fuller performing her "Danse Serpentine" in 1897 - an example of the lively, diverse art scene of the era. By itself it's worth a visit, and not mainly as an antiquarian or historical curiosity - it's mesmerizing, as fresh and stunning as a product of the 1960s avant-garde.
| | |
| --- | --- |
| Exhibition | Toulouse-Lautrec: Resolutely Modern link |
| Start date | 09 Oct 2019 |
| End date | 27 Jan 2020 |
| Presenter | Réunion des musées nationaux - Grand Palais link |
| Venue | 3, avenue du Général Eisenhower, Paris, FRA map |
| Image | Henri de Toulouse-Lautrec, Le Divan, 1893, oil on cardboard, 54 x 69 centimeters, © Museu de arte de Sao Paulo, photo by João Musa |
| Links | Reviews of current exhibitions near this one |
| Share | Facebook, Twitter, Google+ |