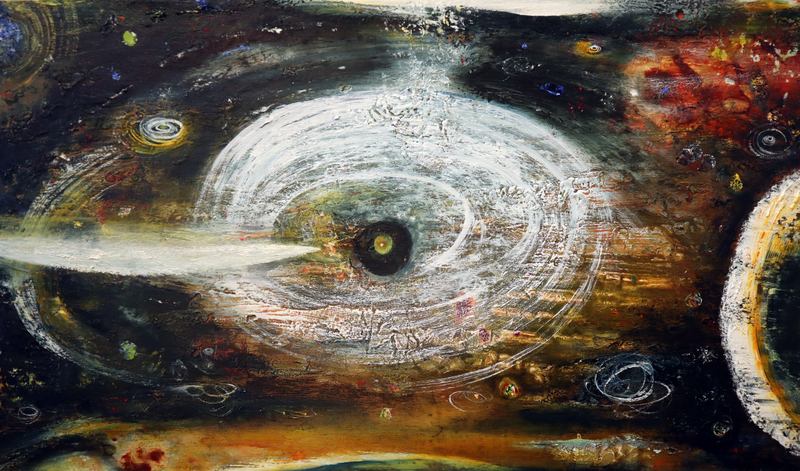 06 Jan 2020
Thom Cooney Crawford
Nurture Nature Center
Reviewed by Elizabeth Johnson
Thom Cooney Crawford fills the cavernous Nurture Nature Center Theater Gallery, nailing the coordinates of a groundless, mobile perspective. Micro-crystalline wax sculptures and acrylic and oil paintings culled from forty years' work depict universes, stars, planets, and black holes studding the voids. Burial-shrouded, child-sized, sightless, Janus-faced Orpheus Figures orbit Angel Tree Shapeshifter, suggesting that disturbing but serene intergalactic excursions occur during meditation, sleep, or death.
With Ancient Twists equates the curvature of a white eyeball with the surface of a mirrored lens. A black pupil inside the eye encloses a distant, white-yellow-red-green planet. This planet reflects its color back to us, seeming to replace the original eye with a conjured one.
Rendering paradox through contrasting circles and ellipses, Cooney Crawford elicits the horror and beauty of a transformed, warped, skewed existence at great conceptual distance from Earth.
| | |
| --- | --- |
| Exhibition | Thom Cooney Crawford |
| Start date | 11 Oct 2019 |
| End date | 05 Jan 2020 |
| Presenter | Nurture Nature Center link |
| Venue | 518 Northampton Street, Easton, PA, USA map |
| Image | Thom Cooney Crawford, With Ancient Twists, 2019, oil on panel, 12.5 x 22.5 inches, courtesy of the artist |
| Links | Reviews of current exhibitions near this one |
| Share | Facebook, Twitter, Google+ |