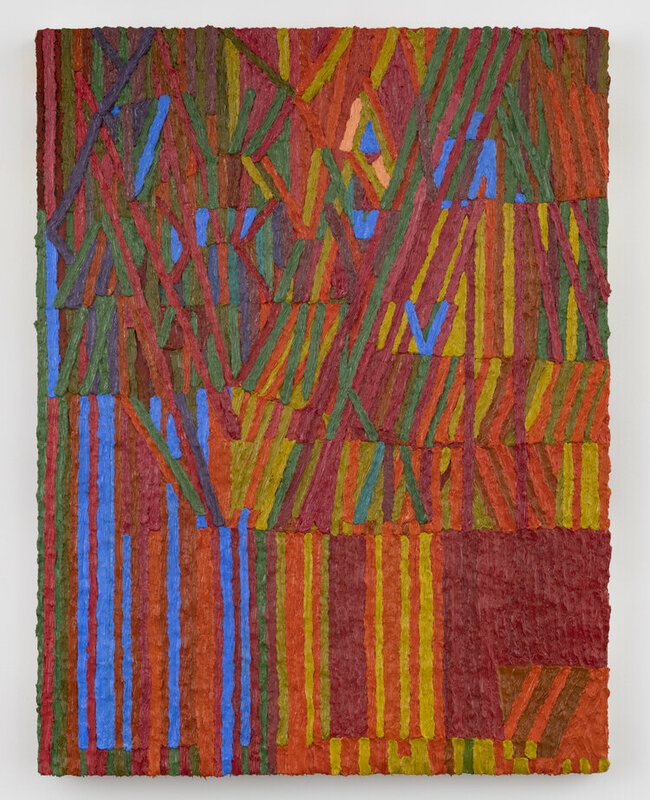 14 Jan 2020
Brett Baker: The Beauty at Hand
Elizabeth Harris Gallery
Reviewed by Franklin Einspruch
Over the course of years, Brett Baker stacks brushy vertical stripes alongside one another in rows. The stripes tilt, expand, and shorten, changing their proportions and angle according to an intuited scheme. Paint builds up into an attractive crust. Greenberg called this the "cold" mode of modernism (the quotes are his) - measured, deliberate changes worked out across the surface until the whole arrives at a satisfactory conclusion. He noted this as modernism's defining aspect.
Heat is nevertheless necessary, and Baker has turned it up in these recent works. He used to restrict paintings to a dark range and smallish size that produced an attractive smoldering effect, but a gathering of many of them looked hemmed-in. These have broken out, dashingly. One of the larger ones, Porch and Palm I (2017-19), places a busy array of chaotically leaning strokes atop a more orderly set. Throughout, blue stripes crackle like live current against the surrounding reds and oranges.
It is as if Baker, having dug at a narrow hole for ages, struck gold, sapphires, and rubies all at the same time.
| | |
| --- | --- |
| Exhibition | Brett Baker: The Beauty at Hand |
| Start date | 04 Jan 2020 |
| End date | 15 Feb 2020 |
| Presenter | Elizabeth Harris Gallery link |
| Venue | 529 West 20th Street, New York City, NY, USA map |
| Image | Brett Baker, Porch and Palm I, 2017-19, oil on canvas, 34 x 26 inches, photo by Adam Reich, courtesy of Elizabeth Harris Gallery |
| Links | Reviews of current exhibitions near this one |
| Share | Facebook, Twitter, Google+ |