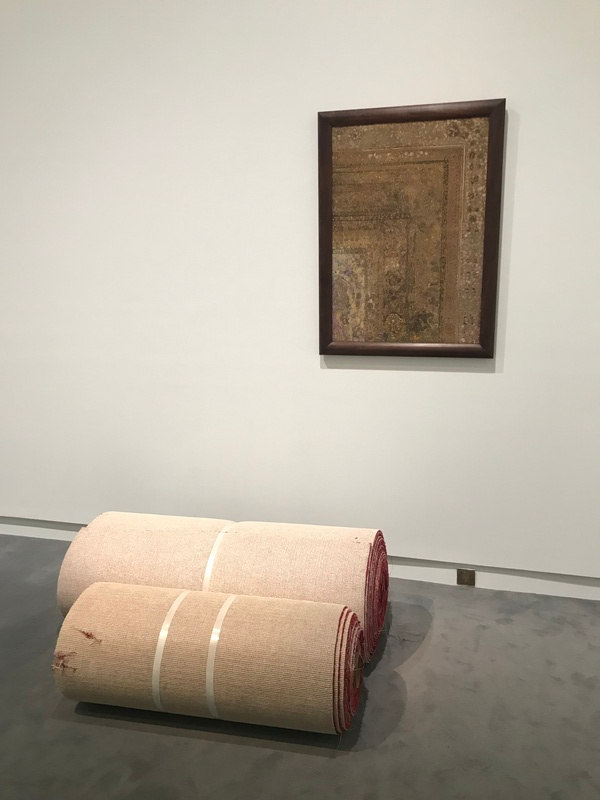 17 Jan 2020
LUX S. 1003 334: Orsay seen by Christodoulos Panayiotou
Musée d'Orsay
Reviewed by William Corwin
Christodoulos Panayiotou ironically and poetically showcases the Alpha and Omega of the museum, footsteps and dust, supplemented by collection numbers and object descriptions.
He frames skeins of dust on canvas so that one has to look at the passage of time via built-up grit. Halfway through the show, the gray shag on the floor becomes brighter. The artist has exchanged new carpeting for that from the "Picasso: Blue and Rose" exhibition. The gesture shoves the brain into thoughts of throngs of tourists in thrall to great art.
Operation Serenade (2012) presents two rolled-up remnants of red carpet from the Oscars. Inaccessible, it refuses to let us mix with the footfall of celebrity. Above it hangs a prototype for an industrial tapestry design by Redon, c. 1908. This piece, taken with Rodin's Thought (1895) placed at the end, highlights the unfinished back of the marble that bears the inventory number. The two works bookend the show in ideas of real and unrealized: a painting aspires to be a tapestry, while an inventory number dreams of being a sculpture.