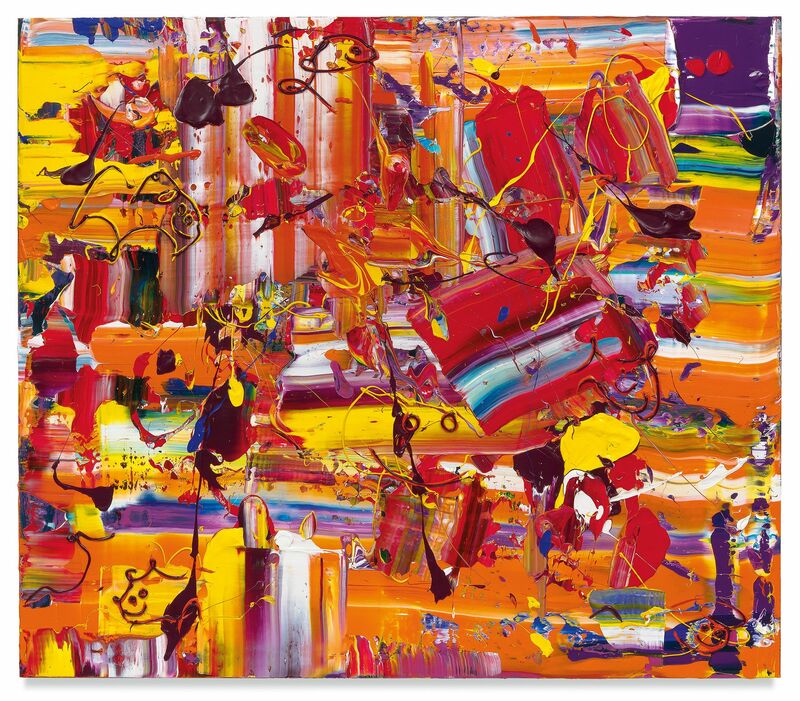 22 Jan 2020
Michael Reafsnyder
Miles McEnery Gallery
Reviewed by Franklin Einspruch
Zen teacher John Daido Loori used to smoke on the monastery grounds. He knew it was bad for him, but he explained that nothing else worked so well to destroy attachment to him. I recalled Daido upon contemplating the paintings of Michael Reafsnyder. The latest pieces at McEnery display the able smears of acrylics that have long characterized his works. What first appear as Pollockesque flingings upon them are in fact smiley faces, drawn by squeezing paint out of dispensers.
This is clever, and I write that as someone who takes abstract art seriously. There is indeed nothing holy about the exercise, and Reafsnyder has found a way to point this out without trashing it wholesale. On the contrary, the works have all the requisite delectation in color and form.
But smoking finally killed Daido, and Reafsnyder risks becoming the guy who puts smileys on his abstractions, which would tank the project. There's a fine line between a signature flourish and a gimmick. This exhibition is a delight, but his next one may not be if he seems destined to repeat his repertoire unto exhaustion.
| | |
| --- | --- |
| Exhibition | Michael Reafsnyder link |
| Start date | 09 Jan 2020 |
| End date | 15 Feb 2020 |
| Presenter | Miles McEnery Gallery link |
| Venue | 525 West 22nd Street, New York City, NY, USA map |
| Image | Michael Reafsnyder, Orange Slurp, 2018, acrylic on linen, 52 x 60 inches, courtesy of Miles McEnery Gallery |
| Links | Reviews of current exhibitions near this one |
| Share | Facebook, Twitter, Google+ |