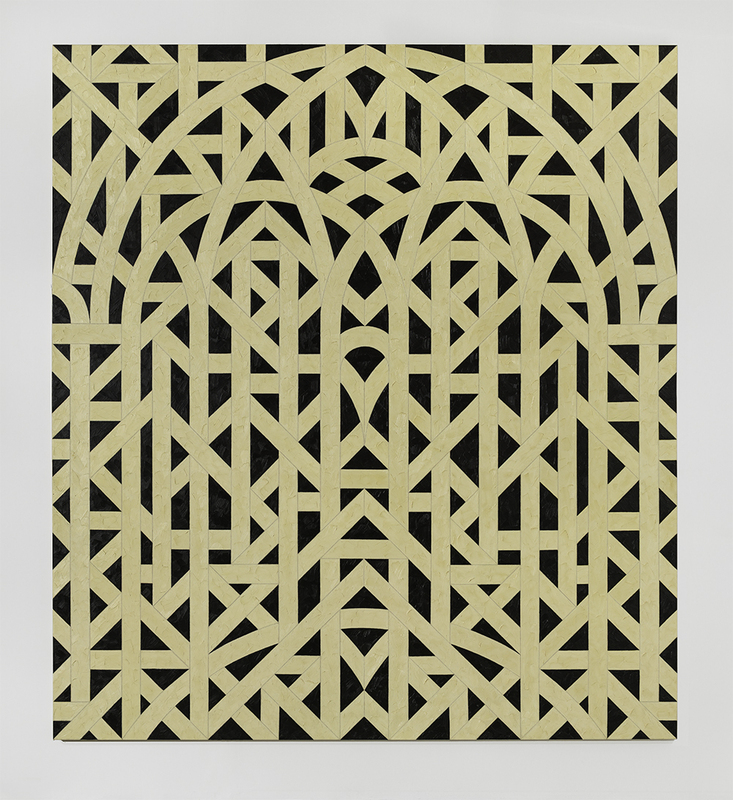 30 Jan 2020
With Pleasure: Pattern and Decoration in American Art 1972-1985
Museum of Contemporary Art
Reviewed by Dana Gordon
Pattern and Decoration coalesced in New York in the 1970s, providing a timely antidote to the dour rigor of minimalism and conceptual art. Some of it was expressly feminist. In this show it leans toward painting in controlled abstraction or loose figuration, and includes sculpture. The exhibition is large and uneven, but there are many beautiful works in it, not all usually associated with P&D.
Dee Shapiro's intricate, painterly tondo is grave here. Valerie Jaudon is classically strict with rich austerity. Lucas Samaras gives us harsh, playful, edgy dynamism. Uncharacteristic works by Al Loving (loosely hanging) and Sam Gilliam (rigid and on the wall) appear adjacent.
A soulful X-grid in reds by Arlene Slavin and an abstract calligraphic message by the great, under-recognized William T. Williams are memorable. Hanging in air is a cylindrical canvas torture chamber by Alan Shields. Inventive form and color in a curtain-like form by Judy Pfaff knock out an aggressive, undistinguished Frank Stella next to it.
| | |
| --- | --- |
| Exhibition | With Pleasure: Pattern and Decoration in American Art 1972-1985 link |
| Start date | 27 Oct 2019 |
| End date | 18 May 2020 |
| Presenter | Museum of Contemporary Art link |
| Venue | 250 South Grand Avenue, Los Angeles, CA, USA map |
| Image | Valerie Jaudon, Mineral Wells, 1980, oil on canvas, 120 x 108 inches, collection of Thomas Solomon and Kimberly Mascola, courtesy of the Museum of Contemporary Art |
| Links | Reviews of current exhibitions near this one |
| Share | Facebook, Twitter, Google+ |