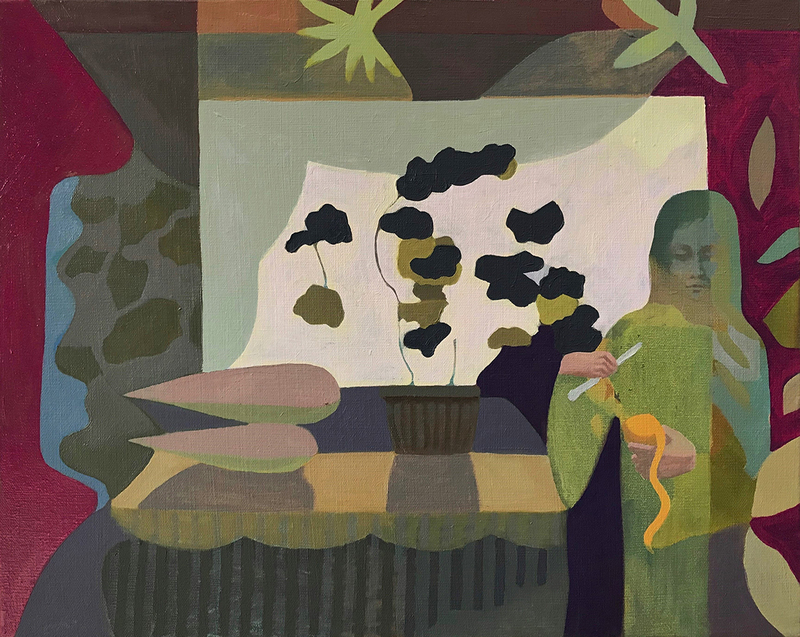 31 Jan 2020
Kathleen Craig & Sarah Lubin
Nancy Margolis Gallery
Reviewed by Franklin Einspruch
Kathleen Craig and Sarah Lubin appear at Margolis in apt juxtaposition. Both of them are ably painting out of a tradition of figurative modernism that veers into the non-objective. The spaces are odd and shapes truncate mysteriously. The colors are ends in themselves.
Some of the Craigs don't come off. Pictorial invention gets upstaged by the animals depicted in Still Life With Crows and Cat in the Coffee (all are 2019). On the other hand, a nigh abstraction, Purple Floor Still Life, feels unsolved. But she hits redemptive sweet spots in Rocks and Weed and Still Life with Rainbow Pitcher, both engrossing in composition and tone.
Lubin is quoting herself with a strain that I haven't seen in her work previously. The leaves in the eminently successful Geranium, for instance, reappear as awkward intrusions in Taking Notes. Here the painters part, as Craig could bear down on the forms harder, while Lubin could productively settle for more conventional picture-making and relax into her luscious and inerrant color sense.
| | |
| --- | --- |
| Exhibition | Kathleen Craig & Sarah Lubin |
| Start date | 09 Jan 2020 |
| End date | 22 Feb 2020 |
| Presenter | Nancy Margolis Gallery link |
| Venue | 523 West 25th Street, New York City, NY, USA map |
| Image | Sarah Lubin, Geranium, 2019, oil on canvas, 16 x 20 inches, courtesy of Nancy Margolis Gallery |
| Links | Reviews of current exhibitions near this one |
| Share | Facebook, Twitter, Google+ |