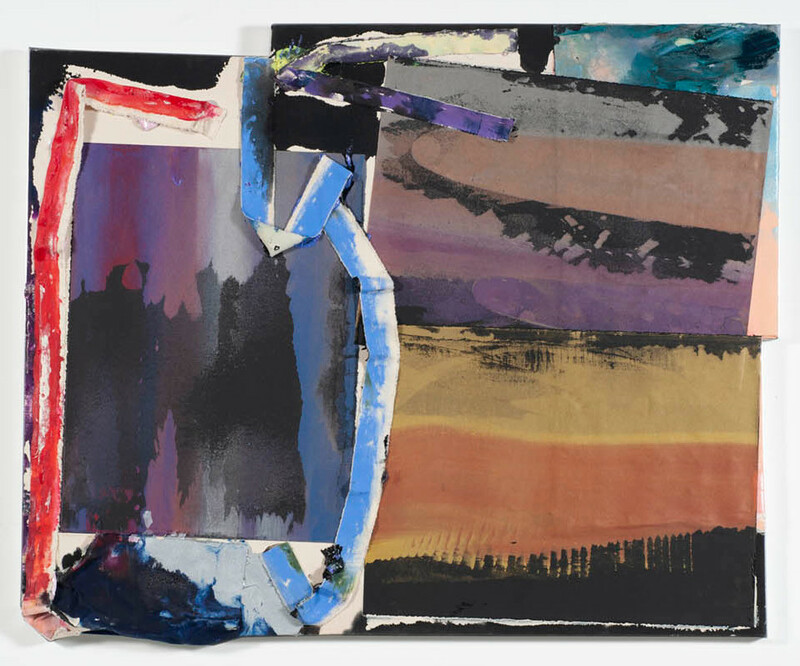 03 Feb 2020
Susan Roth: Black Is A Color
Sam and Adele Golden Gallery
Reviewed by Arthur Whitman
Contra Newton, Susan Roth has long treated black as a color. Combining shaped supports, collage, and richly varied paint application, Roth has built a remarkable oeuvre over the past four decades.
Her retrospective at Golden is a homecoming. The relationship between artist and manufacturer has long been collaborative, each pushing the other forward. Using myriad acrylic paints and mediums, Roth has created a sci-fi abstract expressionism, both breathtaking and alien.
Black maintains its own identity in most of the fifteen canvases here, serving as a kind of graphic element. In the stunning, panoramic Malta (1989), however, it suffuses the dark purple-blue that serves as the backdrop for a pair of bandage-like collage strips in fleshly pinks and beige.
Most pieces are vertical, echoing the human body in their scale and wobbly contours. Canvases like Don Juan and Temptations of the Heart (both 1987) revel in shimmery lushness. Suffused in Golden's darker-than-dark black gesso, Mount of Olives (1984) and Figure of Speech (1987) are the purest expressions of the show's theme.
| | |
| --- | --- |
| Exhibition | Susan Roth: Black Is A Color |
| Start date | 12 Oct 2019 |
| End date | 13 Mar 2019 |
| Presenter | Sam and Adele Golden Gallery link |
| Venue | 188 Bell Road, New Berlin, NY, USA map |
| Image | Susan Roth, John of the Cross, 2017, acrylic and printmaking paper on canvas, 48 x 58 inches, photo by Richard Walker Photography, courtesy of the Sam & Adele Golden Gallery |
| Links | Reviews of current exhibitions near this one |
| Share | Facebook, Twitter, Google+ |