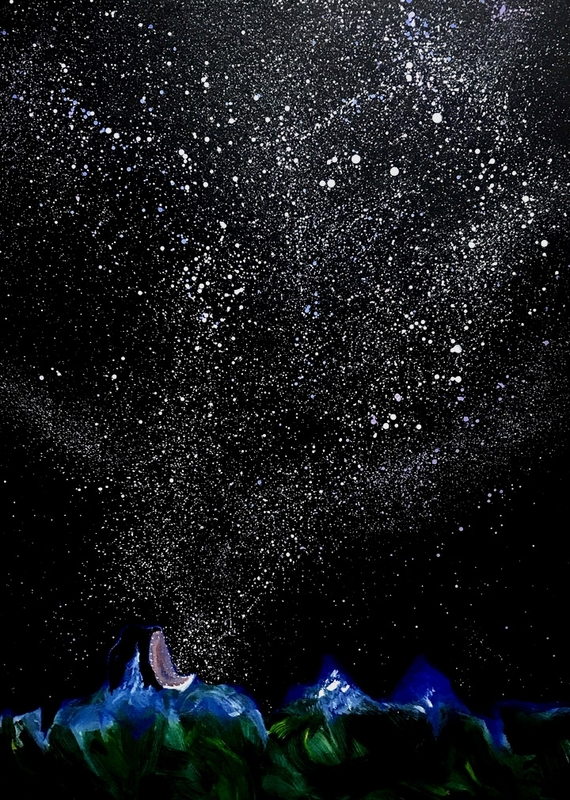 16 May 2017
Fables of the Reconstruction: Peter Burns, Mary DeVincentis, Lizbeth Mitty, Helen O'Leary
David & Schweitzer Contemporary
Reviewed by Ashley Norwood Cooper
The path of cynicism is well-trod, but it only leads one way. Forging a path toward meaning requires a bold spirit and a sharp machete. The artists in "Fables of the Reconstruction" seek depth through romanticism and the development of a personal iconography.
Helen O'Leary's fragile pieces are cobbled together from the deconstruction of earlier paintings. Frail frames prop up hope in the form of clean, white surfaces of re-gessoed failures.
The fabulations in Mary DeVincentis's "Dark Matters" series are drawn from literary sources, Buddhism, and personal experience. Glazes of acrylic paint over Yupo paper imbue the night-time atmosphere with an inward glow. In Night Visit, a skulk of foxes gathers around a mysterious spaceship that rains coins of golden light.
St. Augustine promised that good conquers evil as light penetrates darkness. These artists, laboring where the light is tenuous, might question his certainty, but they share his longing. They unabashedly seek the light.
Exhibition
Fables of the Reconstruction: Peter Burns, Mary DeVincentis, Lizbeth Mitty, Helen O'Leary link
Start date
12 May 2017
End date
04 Jun 2017
Presenter
David & Schweitzer Contemporary link
Venue
56 Bogart Street, Brooklyn, NY, USA map
Image
Mary DeVincentis, Sea Space, 2016, acrylic on canvas, 54 x 40 inches, courtesy of David & Schweitzer Contemporary
Links

Reviews of current exhibitions near this one

Reviews by Ashley Norwood Cooper

Share
Facebook, Twitter, Google+