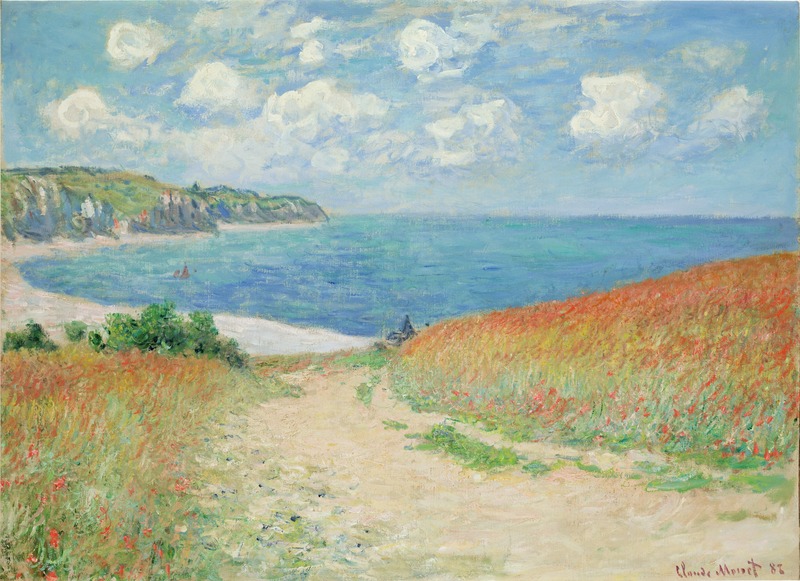 04 Feb 2020
Claude Monet: The Truth of Nature
Denver Art Museum
Reviewed by Alesh Houdek
This exhibition of 120 of Monet's paintings, ranging his entire career, will convince the viewer of a few facts. First, the impressionistic style was not a revelation, or a discovery in any conventional sense. It was slowly and laboriously realized over the course of over a decade, with lots of regression. From the amount of work he put in, it feels like the manner of seeing had to convince the artist to open to new ideas to the point of being willing to fail. (Indeed, there are more than a few duds here).
Second, the artist discovered several directions and abandoned them to be explored by others decades later, including the color-field minimalism of some of his mist-drenched landscapes and the sketchy ultra-looseness that presage Franz Kline.
Third and most importantly, neither the screen nor the printed page do painting justice. These works can only be seen by moving in, out, and around them. They dissolve into abstract strokes up close and pop into uncanny realism from across the room, their colors unreproducible either way.
| | |
| --- | --- |
| Exhibition | Claude Monet: The Truth of Nature link |
| Start date | 21 Oct 2019 |
| End date | 02 Feb 2020 |
| Presenter | Denver Art Museum link |
| Venue | 100 W 14th Avenue Parkway, Denver, CO, USA map |
| Image | Claude Monet, Path in the Wheat Fields at Pourville, 1882, oil on canvas, 23 x 30-1/2 inches, Frederic C. Hamilton Collection, bequeathed to the Denver Art Museum |
| Links | Reviews of current exhibitions near this one |
| Share | Facebook, Twitter, Google+ |