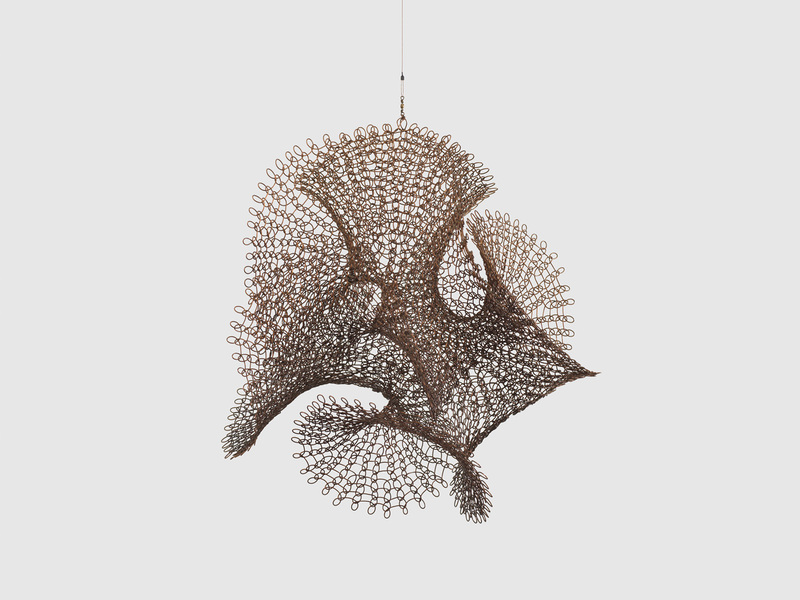 11 Feb 2020
Ruth Asawa: A Line Can Go Anywhere
David Zwirner
Reviewed by William Corwin
While Ruth Asawa's hanging constructions of woven wire have a delicate, decorative appeal, and a kinship to Isamu Noguchi's lamps and lanterns, a longer look opens the door to an exciting darker side that deserves appreciation.
The expansive selection of the artist's works in this gorgeously installed show, supplemented with numerous drawings and cast bronzes, present grittier, threatening, and more intimidating works that meditate on hunger and invasiveness in nature. The classic hanging pieces evoke organisms growing, devouring, and finally dying, leaving skeletons and honeycombs, all built on Asawa's determined line. The drawings are of leaves and buds. Her vaguely fractal wall sculptures ensnare through obsessive pattern.
The artist spent several years of her childhood in a Japanese internment camp in California, so it's hard not to read these spiraling sculptures that resemble chain-link-fence sea anemones as some kind of accommodation of trauma. They are tunnels and prisons, bird cages and seed pods - both trapping and containing life.
| | |
| --- | --- |
| Exhibition | Ruth Asawa: A Line Can Go Anywhere link |
| Start date | 10 Jan 2020 |
| End date | 22 Feb 2020 |
| Presenter | David Zwirner link |
| Venue | 24 Grafton Street, London, GBR map |
| Image | Ruth Asawa, Untitled (S.590, Hanging Open Undulating Form), c.1960, hanging sculpture - copper wire, 10 1/2 x 9 x 9 inches, courtesy of David Zwirner |
| Links | Reviews of current exhibitions near this one |
| Share | Facebook, Twitter, Google+ |