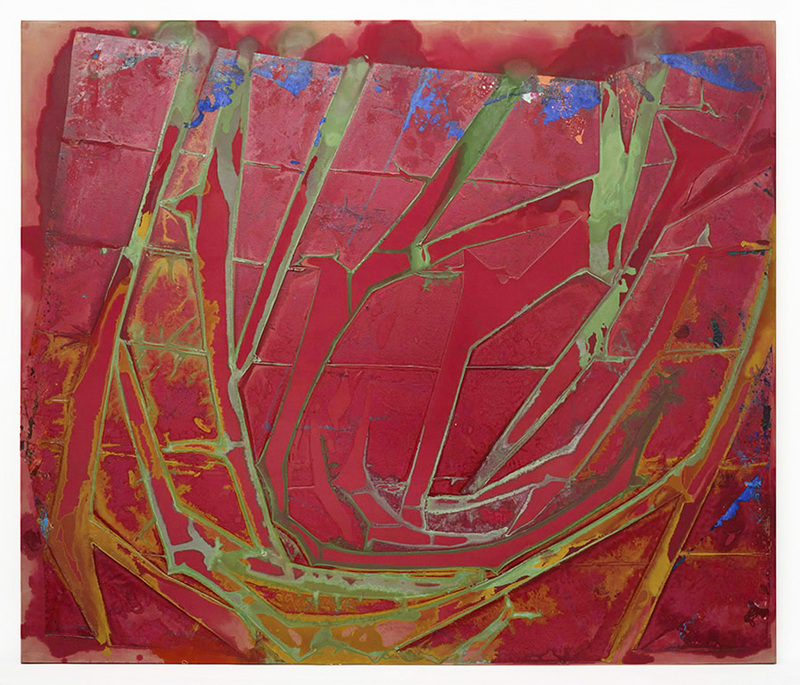 14 Feb 2020
Jeffrey Kurland: New Paintings
Art of Our Century
Reviewed by Dana Gordon
Jeffrey Kurland's bold 2019 abstract paintings perform an unusual feat of uniting the flow typical of color field painting with the breakup of such a field by a composition of lines. Uniquely, the two distinct kinds of form-making happen at the same time in the same place, created by the same process. Here Kurland has a breakthrough.
He begins the color fields by pouring paint onto the canvas - this is not unusual. But the manipulation of the pour by a technique of interference results in a weird kind of composition. It is all-over, but it also looks like it has reformed itself into an irregular crystalline arrangement of shapes and lines.
It is an ugly beauty, simultaneously repellent and seductively engaging. This is partly from the paint application, the surface, and the color. But it's also what the arrival of unfamiliar, high-quality art feels like. Lots of purposefully ugly art makes its way to gallery walls nowadays. It's a cliché. This is different, a florescence made possible when the art is based wholly in visual form, and not the illustration of ideas.
| | |
| --- | --- |
| Exhibition | Jeffrey Kurland: New Paintings |
| Start date | 16 Jan 2020 |
| End date | 16 Feb 2020 |
| Presenter | Art of Our Century |
| Venue | 137 West 14th Street, 3rd Floor, New York City, NY, USA map |
| Image | Jeffrey Kurland, Mad Rose, 2019, acrylic on canvas, 79 x 93, photo by Alex Schaefer, courtesy of the artist |
| Links | Reviews of current exhibitions near this one |
| Share | Facebook, Twitter, Google+ |