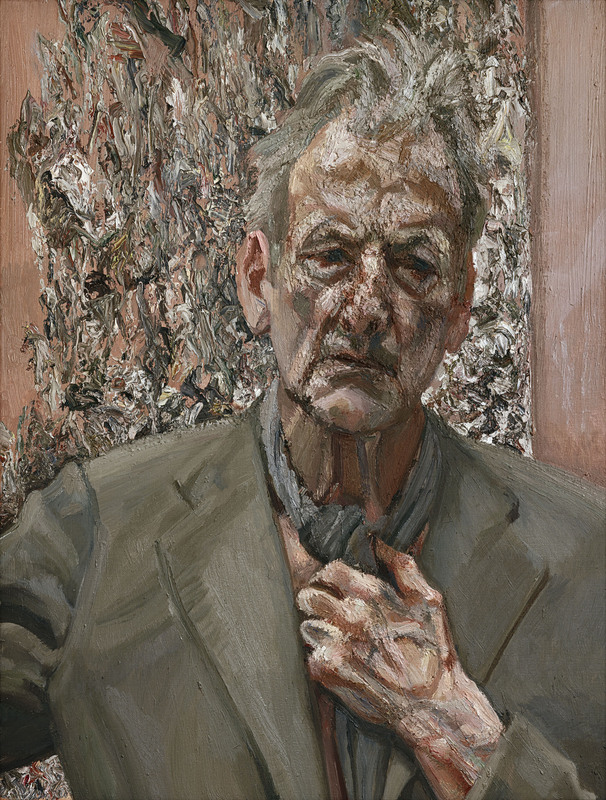 05 Mar 2020
Lucian Freud: The Self-Portraits
Museum of Fine Arts, Boston
Reviewed by Franklin Einspruch
Lucian Freud basically failed his way out of surrealism, for which he didn't have the imagination. But that led him from interesting if sometimes prissy early works to a thoroughly observational art of which he was one of the great practitioners of the last 120 years. "Lucian Freud: The Self Portraits" contains samples from the whole oeuvre.
The show is small, having been deprived of works that couldn't travel from the Royal Academy of Arts. (To its credit it includes others that weren't in London.) It hangs spaciously in the modest Torf Gallery.
Yet it could stand to be even smaller. A few of the pictures, distractingly, are not self-portraits in any obvious way. Several that are, are unfinished. His method was to put the eyes in a sensible place and paint outward. Incomplete paintings reveal smudges of charcoal on otherwise blank canvas, but no inner workings.
Nevertheless, one of the strongest of the pre-Cremnitz White works, Hotel Bedroom (1954), is here, on loan from New Brunswick. And the 2002 front-lit self-portrait could match anything in the building on sheer gravitas.
| | |
| --- | --- |
| Exhibition | Lucian Freud: The Self-Portraits link |
| Start date | 01 Mar 2020 |
| End date | 25 May 2020 |
| Presenter | Museum of Fine Arts, Boston link |
| Venue | 465 Huntington Avenue, Boston, MA, USA map |
| Image | Lucian Freud, Self‑Portrait, Reflection, 2002, oil on canvas, private Collection, © The Lucian Freud Archive / Bridgeman Images |
| Links | Reviews of current exhibitions near this one |
| Share | Facebook, Twitter, Google+ |