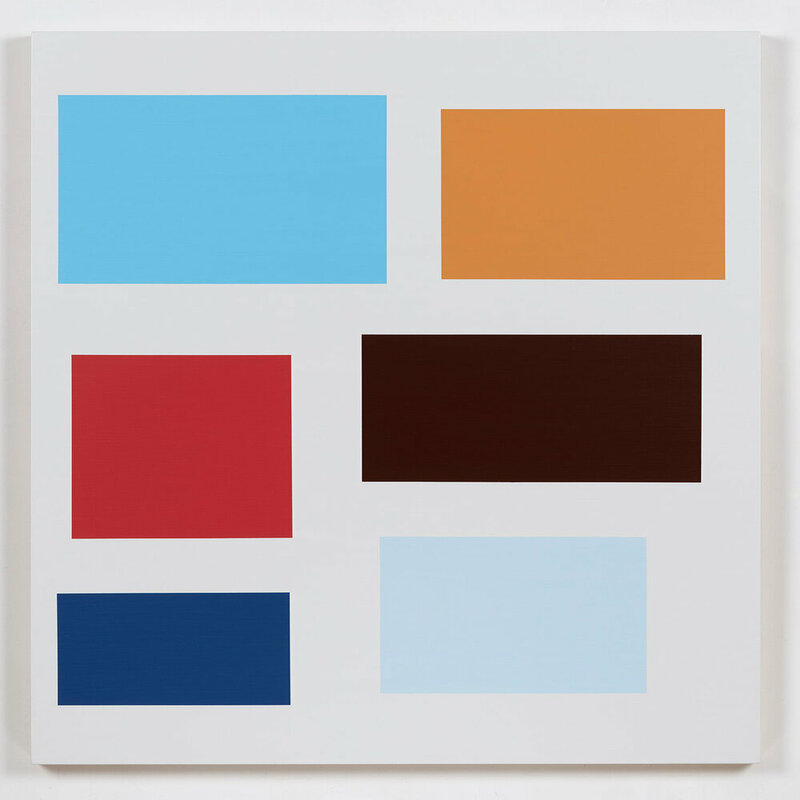 10 Mar 2020
Tom McGlynn: At Present
Rick Wester Fine Art
Reviewed by Dana Gordon
In painting in which color is the main mechanism, deliberately extreme precision can lead to ecstasy, or elsewhere. Tom McGlynn shows us some of the genre's hard-to-reach potentials.
The expression in such painting depends on the interaction of colored shapes alone. Any hint of narrative is an interference, and usually banished. Simple forms are placed precisely adjacent, to control the effects that they have on each other.
McGlynn uses, abuses, and extends this tradition, to vibrant effect and unexpected affect. By separating his shapes with significant amounts of space, he releases more varied and potent color action, adding emotional notes as well as playing on perceptions and expectations. The shapes seem to move: jumping, bumping, sliding, and jiggling.
The whole installation is a symphony of vibrating color, but it tends somewhat to stifle the individual paintings, whose beauty and personality could be better appreciated with more room around them.
| | |
| --- | --- |
| Exhibition | Tom McGlynn: At Present link |
| Start date | 27 Feb 2020 |
| End date | 18 Apr 2020 |
| Presenter | Rick Wester Fine Art link |
| Venue | 526 West 26th Street, Suite 417, New York City, NY, USA map |
| Image | Tom McGlynn, Control Group, 2019, acrylic on beech panel, 36 x 26 inches, courtesy of Rick Wester Fine Art |
| Links | Reviews of current exhibitions near this one |
| Share | Facebook, Twitter, Google+ |