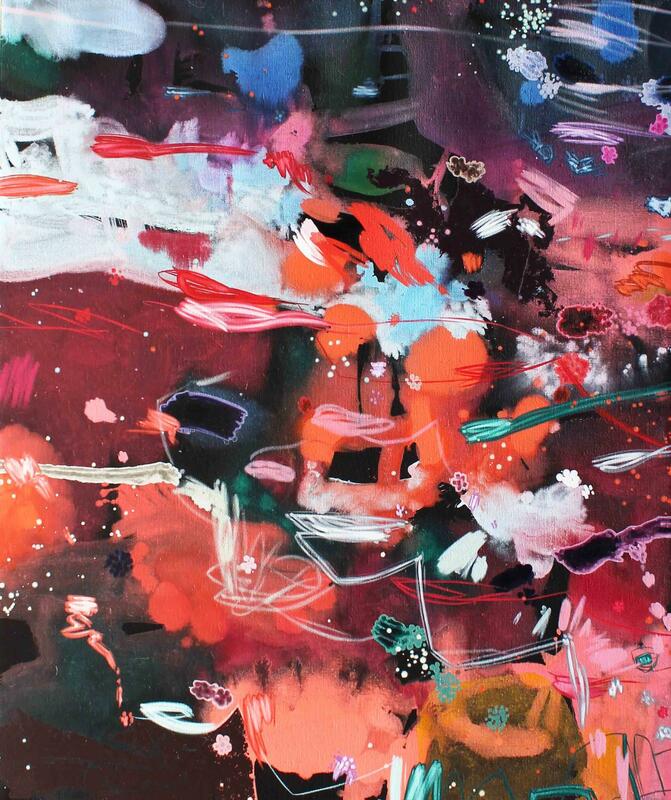 11 Mar 2020
Psychotropics
New Art Centre, Roche Court
Reviewed by William Corwin
Curator Iwona Blazwick corrals a host of concepts - technologically enhanced art, psychedelics, and environmental concern - in this vibrant group show. The surfaces are inscrutable, iridescent, glowing, furry, and plasmatic, but nothing that blows out the retina and much that soothes it via innovations of materiality.
Dan Perfect's bustling canvasses teem with Petri-dish-like assemblages of trembling, blurry forms. Salvatore Arancio is on a similar tack with frenetic, gnarled, glossy clay pieces slipping from behind fluorescent glass screens.
Amy Stephens employs a fuzz like a leaf's underside, but one that comes in cheekily artificial purple. Her fragments of sticks oscillate between natural and metallic textures. Jonathan Trayte's powdery stalactites and stalagmites, festooned with neon strips and bulbs and set on carpeted plinths, proclaim a retro future, while Alice Channer's installations offer a sharper, more threatening one.
"Psychotropics" is a relief. The artists don't take refuge in technology because they have seen the future in themselves.