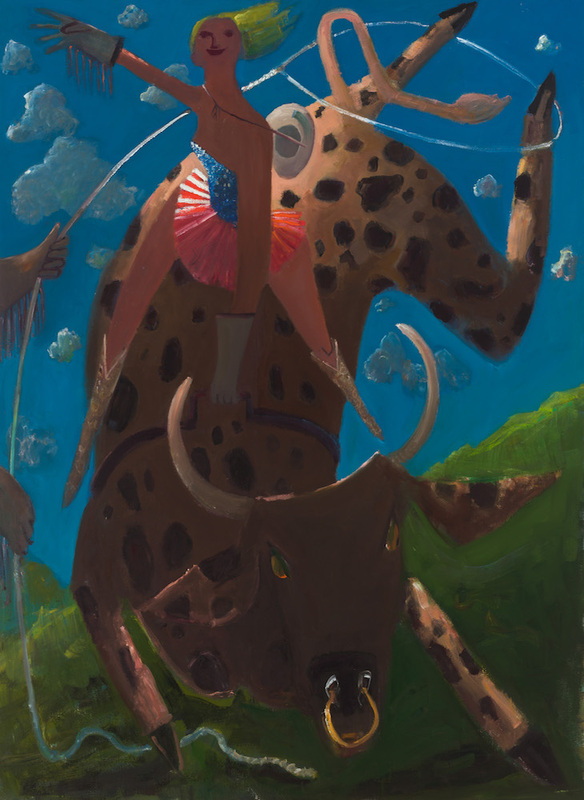 18 Mar 2020
Kyle Staver
Zürcher Gallery
Reviewed by Dana Gordon
Kyle Staver's new work is gloriously conceived, magnificently painted, and seriously fun. I can't remember a group of new paintings this thrilling. Inventive, pictorial fullness found in classic figurative art combines with a complete grasp of the abstract potentials of the rectangular picture plane. The most recent artist to do this as well was Picasso.
Her painterly handling and line have insouciant mastery. Color is uninhibited but just right. Light, often in the form of backlighting, filters through the scenes. Rich but airy paint pushes sensuously toward the viewer. The balance of expression and control in her works on paper amazes.
Staver depicts central narratives of the Western tradition - Ophelia in the garden, Medusa, Miss America riding a bull, Death and the Maiden, St. Sebastian, and the like. All the figures are female, looking rather like the artist herself. They do not always suffer their fates.
| | |
| --- | --- |
| Exhibition | Kyle Staver link |
| Start date | 11 Mar 2020 |
| End date | 30 Apr 2020 |
| Presenter | Zürcher Gallery link |
| Venue | 33 Bleecker Street, New York City, NY, USA map |
| Image | Kyle Staver, Miss America, 2019, oil on canvas, 68 x 50 inches, courtesy of Zürcher Gallery |
| Links | Reviews of current exhibitions near this one |
| Share | Facebook, Twitter, Google+ |