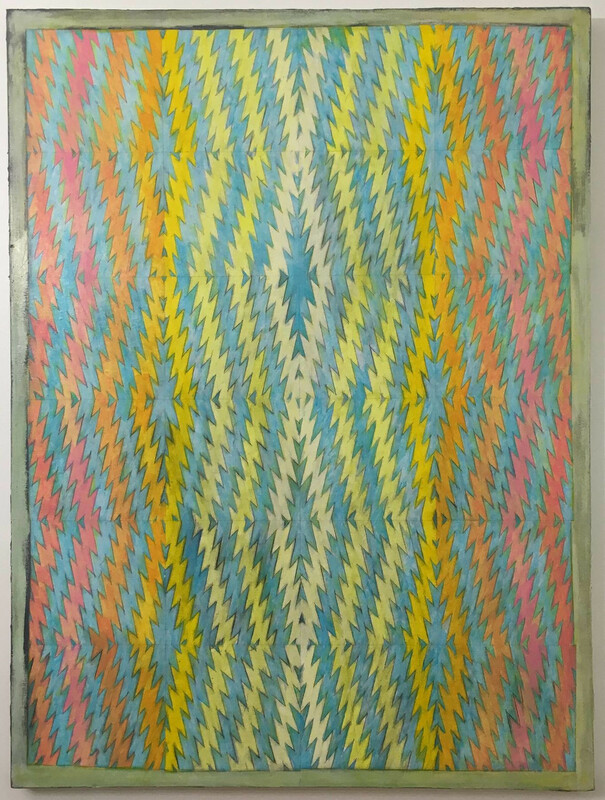 27 Mar 2020
Plain & Fancy
Painting Center
Reviewed by Elizabeth Johnson
"Plain & Fancy" displays Pennsylvania Dutch antiques with contemporary art, stressing craft, restraint and community spirit. Since 1741, the Moravians of Bethlehem have balanced a "plain" religious aesthetic shared with Mennonites, Amish, Hutterites and Brethren against "fancy" progressive Lutheran and Reformed Church customs.
Leslie Fletcher's abstract watercolors commune with rug beaters that perfect line for strength. Brian Wiggins's sublime drawings echo quilt stitching that merges space and light. Hierarchical patterns in Rhonda Wall's collage-painting The Campaign harmonize with a woven coverlet. Jill Odegaard's mesh sculptures seem to map Bethlehem's choirs, or groups organized by age, marital status, and gender. Scott Sherk's locale-specific sound sculptures brim with emptiness in collaboration with Pat Badt's reductive color paintings.
Crossed letters that save paper by layering script, illustrated birth certificates that inspire safe-keeping, rust-resistant toleware, rugs, pottery, sheet music, and ironwork soften the current, more anxious art with calm persistence.