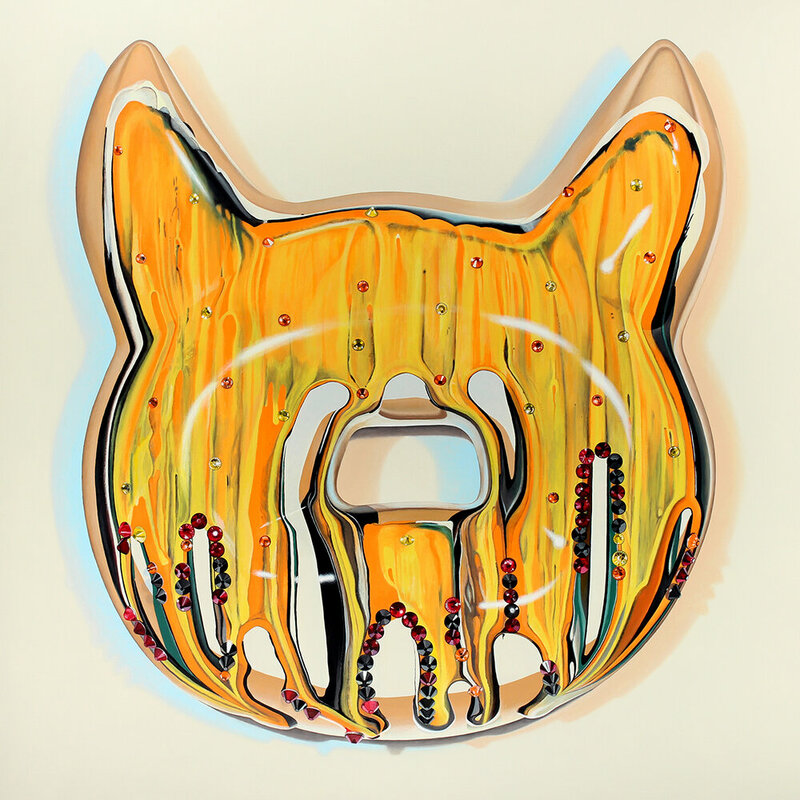 30 Mar 2020
Melodie Provenzano: Seeing Oneself In Others
Nancy Margolis Gallery
Reviewed by Xico Greenwald
Like many still life artists, Melodie Provenzano paints objects she is drawn to. In her case, they are sculptures and multimedia wall pieces by her favorite contemporary artists. Provenzano's meta-project makes artwork of artwork.
Her thought-provoking exhibition at Nancy Margolis presents six still life paintings, each paired alongside the original motif. Artworks by Jae Yong Kim, Matthew McCaslin, Shari Mendelson, Michelle Segre, Arthur Simms, and Jeanne Tremel appear next to Provenzano's corresponding oil paintings.
Care went into lighting the sculptures to match the lighting in the paintings. Looking back and forth between them, visitors can compare the actual objects against their two-dimensional depictions, noticing how Provenzano adjusts her touch to match surface textures.
The larger-than-life oils offer visitors the opportunity to consider the subtle artistic choices that went into making these immaculately executed observational paintings as well as the nature of creativity itself.
| | |
| --- | --- |
| Exhibition | Melodie Provenzano: Seeing Oneself In Others |
| Start date | 27 Feb 2020 |
| End date | 11 Apr 2020 |
| Presenter | Nancy Margolis Gallery link |
| Venue | 523 West 25th Street, New York City, NY, USA map |
| Image | Melodie Provenzano, Ablaze Glaze, 2019, acrylic on canvas, 48 x 48 inches, courtesy of Nancy Margolis Gallery |
| Links | Reviews of current exhibitions near this one |
| Share | Facebook, Twitter, Google+ |