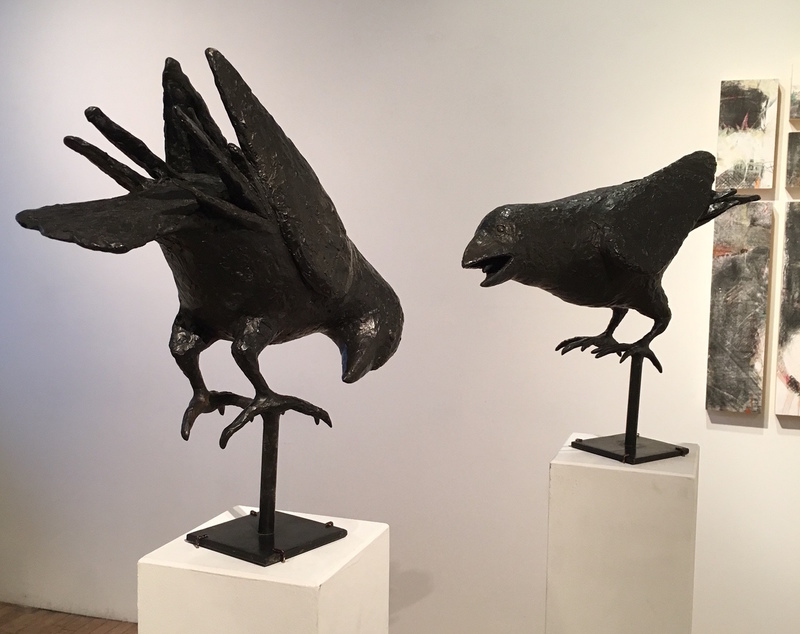 17 May 2017
National Affiliates: She Persisted
SOHO20
Reviewed by Harry Newman
Ostensibly a response to current political circumstances - the title comes from the chastisement of Elizabeth Warren for confronting a male senator - "She Persisted" could refer just as much to the practice of American women artists or SOHO20 itself, which has been giving opportunities for women artists for 40 years.
The show includes work in sculpture, fabric art, painting, video, photography, and mixed media by a dozen artists who have created significant bodies of work over decades. Few of the pieces are overtly political. Rather, the theme becomes persistence itself, suggesting that to continue to create in a time of uncertainty, or when darker certainties of empire, misogyny, and racism are asserting themselves, to persist as a woman artist, or a woman-centered gallery, is a political act of its own.
I found myself returning to Louise Farrell's elegantly fierce bronze ravens, Georgia Strange's photos of military gravestones, and Elizabeth Michelman's hypnotic video, Change.
| | |
| --- | --- |
| Exhibition | National Affiliates: She Persisted link |
| Start date | 20 Apr 2017 |
| End date | 21 May 2017 |
| Presenter | SOHO20 link |
| Venue | 56 Bogart Street, Brooklyn, NY, USA map |
| Image | Installation view, National Affiliates: She Persisted at SOHO20, on left, Louise Farrell, Bubba, 2016, bronze, 16 x 16 x 5 inches, on right, Louise Farrell, Charles, 2016, 17 x 14 x 4 inches, photo courtesy of Harry Newman |
| Links | Reviews of current exhibitions near this one |
| Share | Facebook, Twitter, Google+ |