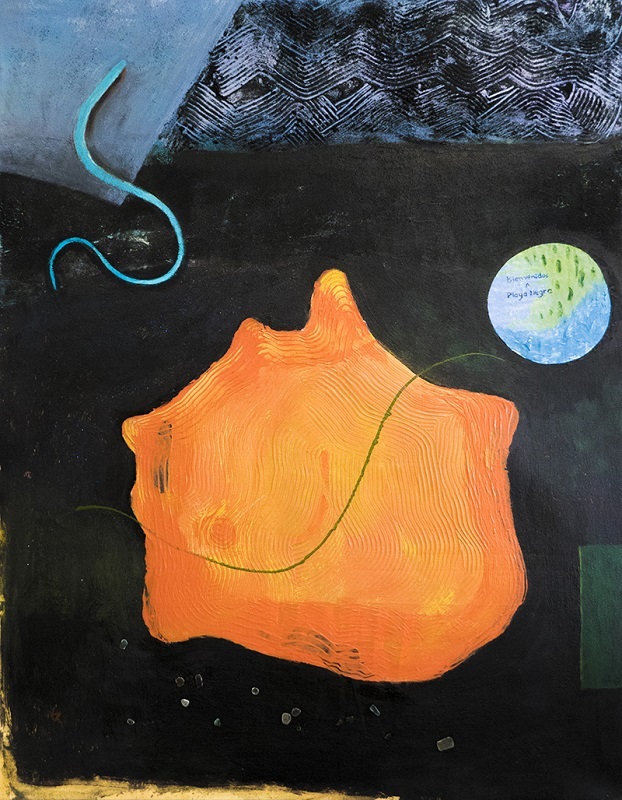 13 Apr 2020
Karin Batten: New Paintings
June Kelly Gallery
Reviewed by Dana Gordon
Karen Batten's paintings aspire only to be paintings, which is aspiration enough.
While the artist's long career has taken place in New York, she grew up in postwar Hamburg. She has clearly thought about modernist German painting. More evidently, her paintings have taken in Matisse, Miro, and Baziotes, with a notable impact of the strong, distinct colors of African and Caribbean palettes.
The play of definite shapes is reminiscent of middle-period Picasso, circa 1930 to 1950. These shapes gradually reveal interaction and overlapping of abstract layers that at first seem flat and juxtaposed.
Large, single-colored shapes often dominate the canvas initially. Then other visual events, sometimes very odd, become apparent. After the initial abstract impression, figures, places, landscape, and weird creatures emerge in an implicit but inexplicable narrative.
Batten potently elucidates real painting through her version of it, inclusive rather than reductionist.
| | |
| --- | --- |
| Exhibition | Karin Batten: New Paintings |
| Start date | 06 Mar 2020 |
| End date | 14 Apr 2020 |
| Presenter | June Kelly Gallery link |
| Venue | 166 Mercer Street, New York City, NY, USA map |
| Image | Karen Batten, Playa Negra, 2020, mixed media and acrylic on canvas, 46 x 36 inches, courtesy of June Kelly Gallery |
| Links | Reviews of current exhibitions near this one |
| Share | Facebook, Twitter, Google+ |