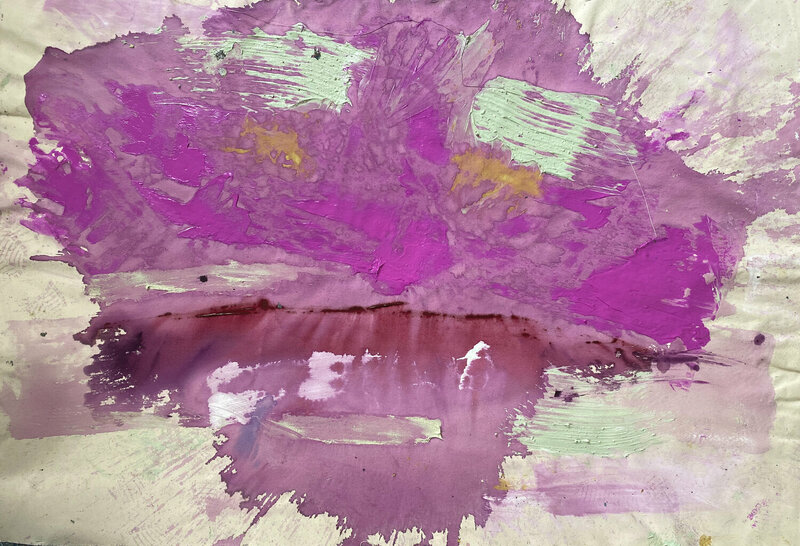 21 Jul 2020
Francine Tint: After a Dream
Chase Young Gallery
Reviewed by Diane Novetsky
Many painters claim to be colorists. For Francine Tint, color is her raison d'etre. This venerable New York artist is known for her acerbic hues and fierce gestures applied in thick strokes of acrylic gel. Her exhibit at Chase Young showcases the range of color within her oeuvre of lyrical abstraction while challenging the eye.
Homage to Miro (2017), a low-keyed beauty, hangs in the rear of the gallery, but demands attention with a smoldering field of metallic gray. Nearby, Sundance (2020), an ovoid explosion of fuchsia with touches of sienna and ivory, exposes the raw canvas ground in each of the corners.
Two standouts, Magic Carpet and Indian Summer (both 2018) hold court in center stage. Magic Carpet is dramatically bisected down the center by a crisp black bar overlapped by bold rectangles of pale yellow and green-gold. Indian Summer, a panoramic dance, is painted in sweeping transparent stains of smoky gray, pale teal and fleshy pinks. A looping black line keeps rhythm.
| | |
| --- | --- |
| Exhibition | Francine Tint: After a Dream |
| Start date | 18 May 2020 |
| End date | 15 Aug 2020 |
| Presenter | Chase Young Gallery link |
| Venue | 450 Harrison Ave, No. 57, Boston, MA, USA map |
| Image | Francine Tint, Sundance, 2020, acrylic on canvas, 39 x 56 inches, courtesy of Chase Young Gallery |
| Links | Reviews of current exhibitions near this one |
| Share | Facebook, Twitter, Google+ |