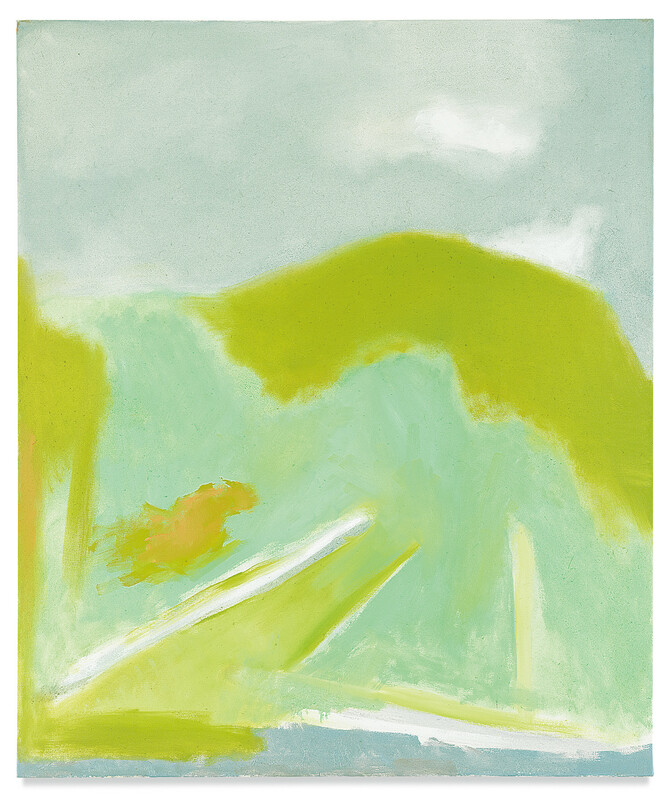 24 Jul 2020
Esteban Vicente
Miles McEnery Gallery
Reviewed by Piri Halasz
Chronologically, Esteban Vicente belonged to the first generation of abstract expressionism. But he didn't exhibit abstractions until the 1950s. This made him a second-generation member of the school. Still, he kept painting luscious abstracts into his nineties, inspired by the radiant color of his flower garden in Bridgehampton, Long Island.
Some fruits of this vision are on view: eleven oils on canvas, all about fifty by forty inches and made between 1994 and 1999. Little blotches and patches and strips of darker colors float on fields of lighter colors. Their drawing can be tentative. The colors more than make up for this: sherbets of orange, lime, lemon and occasionally raspberry - just what one wants on a hot summer day.
They're mostly too delicate for cameras to capture. Spring I (1996) was the only painting on the checklist where the reproduction told the truth about its charming and memorable melange of mint, two grays, olive, and a dab of mustard over on the left.
| | |
| --- | --- |
| Exhibition | Esteban Vicente link |
| Start date | 16 Jul 2020 |
| End date | 28 Aug 2020 |
| Presenter | Miles McEnery Gallery link |
| Venue | 520 West 21st Street, New York City, NY, USA map |
| Image | Esteban Vicente, Spring I, 1996, oil on canvas, 50 x 42 inches, courtesy of The Harriet and Esteban Vicente Foundation and Miles McEnery Gallery |
| Links | Reviews of current exhibitions near this one |
| Share | Facebook, Twitter, Google+ |