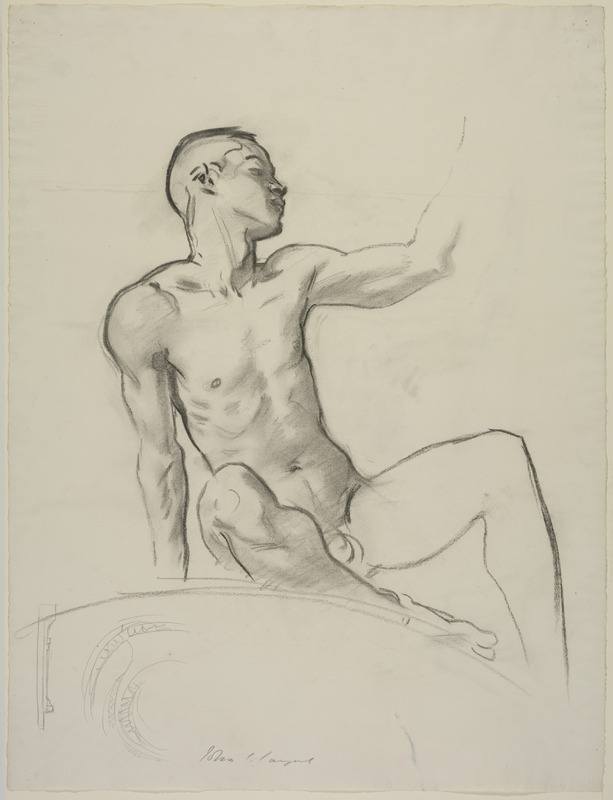 08 Sep 2020
Boston's Apollo: Thomas McKeller and John Singer Sargent
Isabella Stewart Gardner Museum
Reviewed by Franklin Einspruch
Sargent defies explanation. I can tell a student how, for instance, to produce the smooth blending in an Ingres. How to achieve the seemingly effortless flourishes of a Sargent? Beats me. Load the brush and pray.
But these charcoal drawings of a strapping elevator operator that Sargent recruited to pose for the MFA murals prove that he's a mortal after all. Though able in the extreme, they're missing the fairy dust that distinguishes his work from the rest of the contemporaneous roster. That said, even mere technical dash, at this level of execution, approaches wizardry.
The model is black, and since this is 2020, the museum is treating this notable fact as if it were the source of meaning for the project. The wall labels are thus a frenzy of solipsistic point-missing. Don't follow suit. Instead leave yourself and float upwards, to appreciate that these depictions of Thomas McKeller are entirely consistent with the heart of classicism, as Sargent had both the backward- and forward-looking eyes to see.
| | |
| --- | --- |
| Exhibition | Boston's Apollo: Thomas McKeller and John Singer Sargent link |
| Start date | 13 Feb 2020 |
| End date | 12 Oct 2020 |
| Presenter | Isabella Stewart Gardner Museum link |
| Venue | 25 Evans Way, Boston, MA, USA map |
| Image | John Singer Sargent, Study of a Seated Male Nude above a Roundel for the Rotunda of the Museum of Fine Arts, Boston, 1916-1921, charcoal on paper, 24 15/16 x 18 7/8 inches, Isabella Stewart Gardner Museum |
| Links | Reviews of current exhibitions near this one |
| Share | Facebook, Twitter, Google+ |