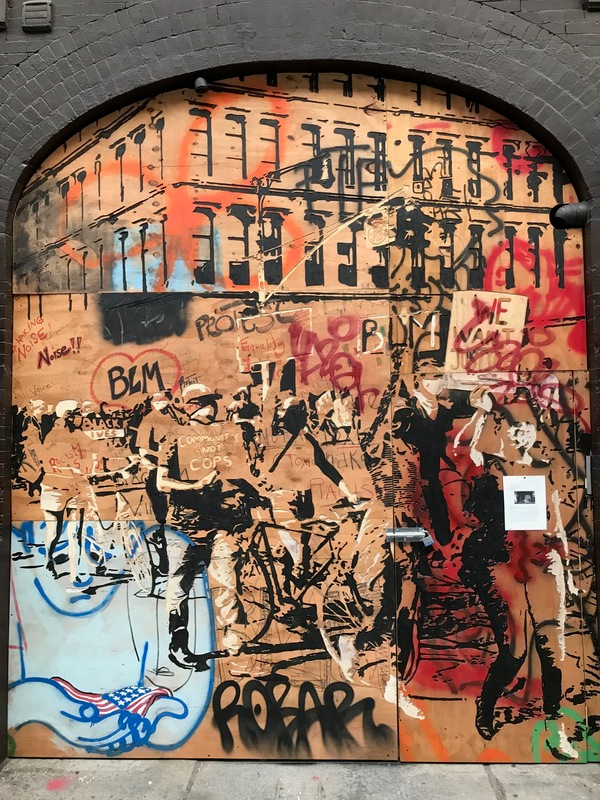 23 Sep 2020
Essential Services: Zorawar Sidhu and Rob Swainston
601Artspace
Reviewed by William Corwin
From the end of May up until the present, many storefronts have been boarded up in New York City - a defensive measure by businesses against a perceived popular uprising. These plywood tabulae rasae found themselves being inscribed with everything from slogans and acronyms, warnings and threats, to imagery of and about the protests going on.
Zorawar Sidhu and his collaborator Rob Swainston realized the potential of these meaning-soaked plywood sheets. They have repurposed a few for reframing into a semi-permanent monument. Sidhu and Swainston have etched and inked depictions of the protests on the surface of the plywood, an action they feel mimics the use of woodblock printing as a means of disseminating protest in the late Middle Ages up to the present.
This maelstrom of imagery is effective. It replicates the energy, confusion, and brevity of this moment of dissent. The DIY aesthetic of sprayed graffiti, graphite text, and the black-and-white, appropriated picture of marchers bearing placards is a didactic but irreverent method of searing this moment in memory.