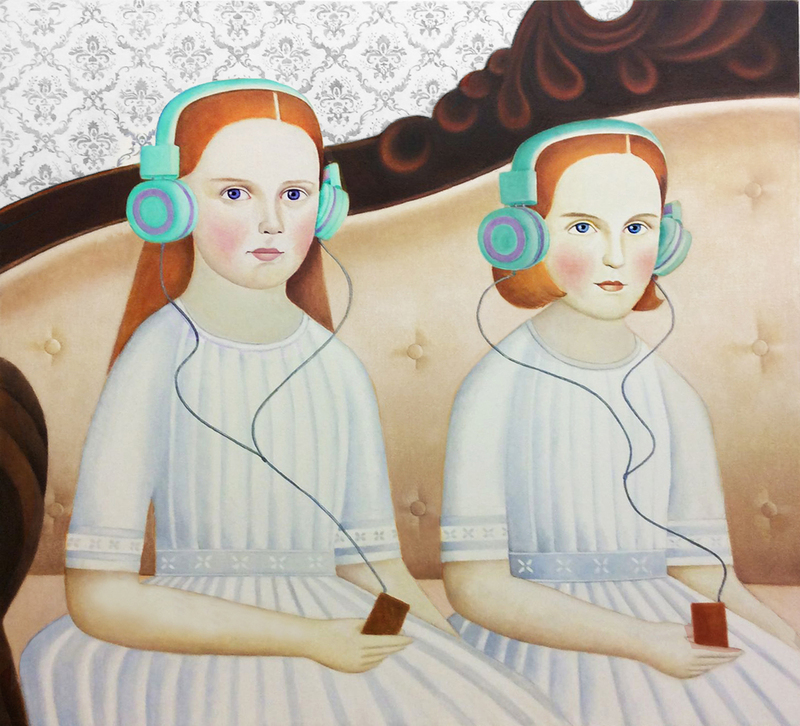 29 Sep 2020
Amy Hill: Yesterday, Today and Tomorrow
Front Room Gallery
Reviewed by Elizabeth Johnson
Amy Hill's oil paintings emphasize consistent, meticulous surface. They portray young, composite characters serenely posing with family, friends, and pets as they hang out, make art, play music, and marry. Supplanting details in Early American Folk with contemporary lifestyle clues, Hill's personae shyly inhabit smooth, perfect skin, stiff clothing, and harmonious environments: surfaces define and shield them. Their eyes suggest aloof listening, polite avoidance, and cautious consideration. As ciphers they house the viewer's projection by seeming alternately knowing and empty.
Two Girls on a Couch (2020) invites but blocks opinions about what the two girls might be experiencing. Are they listening to the same music? Their hands and iPods are comparatively less finished. Their eyes fix on different points. At once, they are secretive teens, twin Buddhas, and silent oracles.
Compared with previous paintings, Hill's portraits contain fewer details. Where her surfaces permit rifts in continuity, the facts are ranked, and nudge portraiture toward storytelling.
| | |
| --- | --- |
| Exhibition | Amy Hill: Yesterday, Today and Tomorrow link |
| Start date | 12 Sep 2020 |
| End date | 18 Oct 2020 |
| Presenter | Front Room Gallery link |
| Venue | 48 Hester Street, New York City, NY, USA map |
| Image | Amy Hill, Two Girls on a Couch, 2020, oil on canvas, 28 x 30 inches, courtesy of Front Room Gallery |
| Links | Reviews of current exhibitions near this one |
| Share | Facebook, Twitter, Google+ |