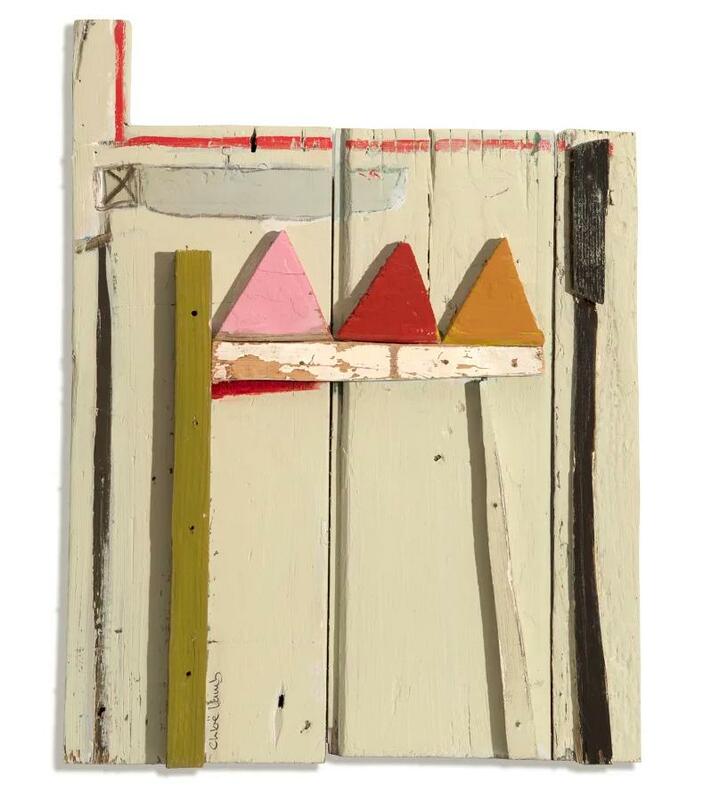 02 Oct 2020
Chloë Lamb: New September
Hollis Taggart Galleries
Reviewed by Franklin Einspruch
The paintings of Chloë Lamb, in aggregate, make less of an impression than they ought. Most of the problem has to do with the palette. It is inarguably excellent - bright colors taken a mote off of peak intensity with a finessed admixture of their respective complements, organized with a dark "drawing" color. But a full room of them feels overly safe. Abstract painters are obliged to repeat themselves a lot, and doing so fruitfully is one of the hard problems of the discipline.
Taken singly, as all art should be taken, they sing. Some of these could hang confidently next to a de Kooning, particularly Spring Turquoise (2019), which sits in a wholly different tonal range, and We Went to the Fair (2018), which hearkens back to the surrealist roots of abstraction with its quirky drawing and semi-figurative shapes.
There are also some recent assemblages of found wood, arranged and painted. These are delightful and more vigorously engage the artist's sense of play. The Fair (2020) gets the viewer in on the fun without depicting anything - a canny conveyance of feeling.
| | |
| --- | --- |
| Exhibition | Chloë Lamb: New September link |
| Start date | 07 Sep 2020 |
| End date | 03 Oct 2020 |
| Presenter | Hollis Taggart Galleries link |
| Venue | 521 West 26th Street, New York City, NY, USA map |
| Image | Chloë Lamb, The Fair, 2020, mixed media on wood, 19 x 14 3/4 inches, courtesy of Hollis Taggart Galleries |
| Links | Reviews of current exhibitions near this one |
| Share | Facebook, Twitter, Google+ |