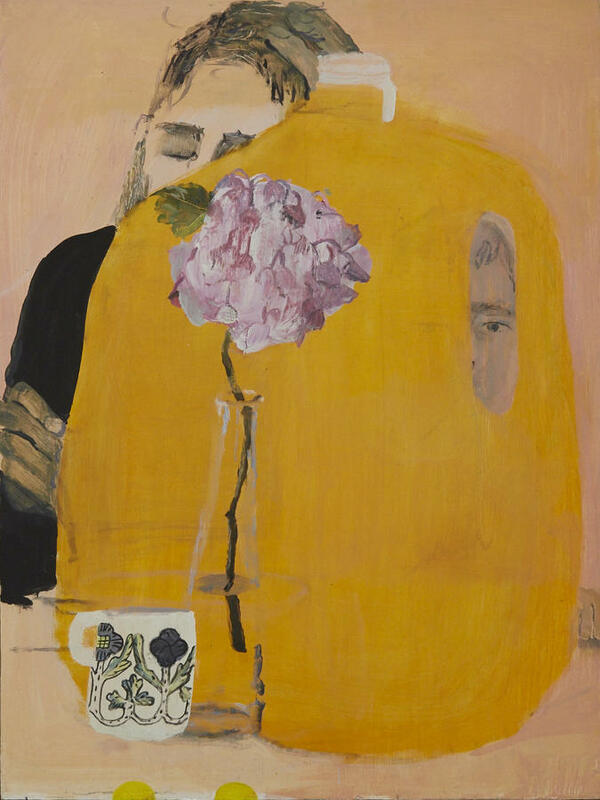 29 Oct 2020
Aubrey Levinthal: Vacancy
Monya Rowe Gallery
Reviewed by Franklin Einspruch
Aubrey Levinthal's exhibition at Monya Rowe is distinct and serious. I see ancestry in the early Cubist works that Will Barnett painted of his family, and some of his ensuing explorations of flatness via the figure. In feeling and application, they are close to the existentially fraught bird paintings of Morris Graves. The ordinariness and peculiar blankness of the subjects seem similarly to harbor a depth that we can witness but not plumb, and the surfaces are thin to the point of fragile.
But the voice is clearly Levinthal's, and it rings through particularly in Egg Breakfast (2020). A metonymous eye peers from behind a mountainous gallon of orange juice, which sets off a purple carnation atop a troubled, sharp-cornered stem. The titular subject of the painting sits at the bottom edge, riveting the composition into place.
Levinthal may not be strictly unique, but she and Ashley Norwood Cooper occupy the highest tier of artists working in a mode of contemporary Intimism, and I'm neither sure who else is in it nor whether anyone resides in the tier under them.
| | |
| --- | --- |
| Exhibition | Aubrey Levinthal: Vacancy link |
| Start date | 10 Sep 2020 |
| End date | 31 Oct 2020 |
| Presenter | Monya Rowe Gallery link |
| Venue | 224 West 30th Street, #1005, New York City, NY, USA map |
| Image | Aubrey Levinthal, Egg Breakfast, 2020, oil on panel, 24 by 18 inches, courtesy of Monya Rowe Gallery |
| Links | Reviews of current exhibitions near this one |
| Share | Facebook, Twitter, Google+ |