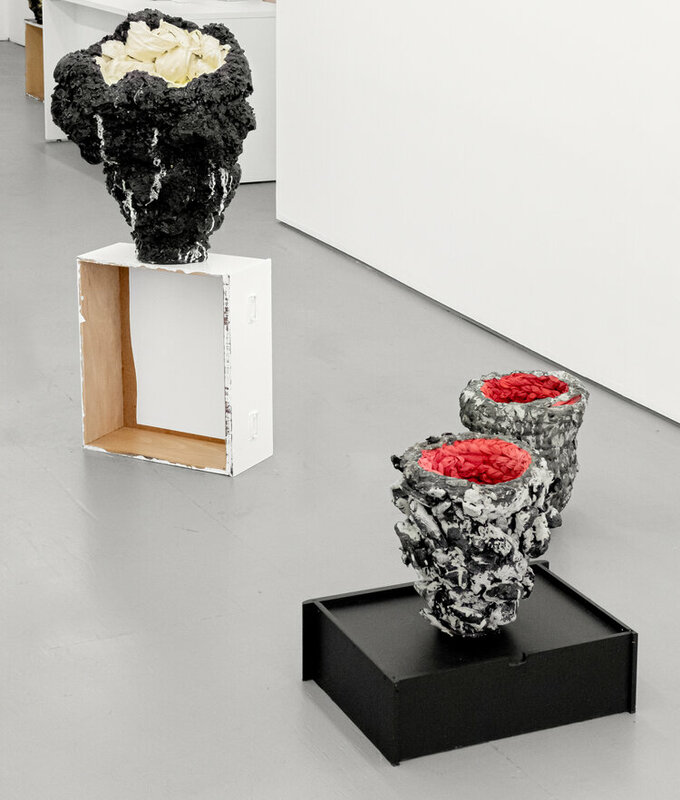 11 Nov 2020
Vadis Turner: Cups and Grids
Geary Contemporary
Reviewed by Harry Tafoya
Vadis Turner takes the raw material of the domestic sphere and transforms it into hulking monoliths of weird femininity: tapestries woven out of soiled nightgowns, antique quilts recast as swamp mounds, and ribbon "paintings" that gather and unfurl like candy entrails.
Her latest show at Geary employs all of her technical skill and signature wit to more unadorned effect. Encrusted Bedsheet Vessel is of a piece with her other cup forms, but its lumpen texture appears more like a deep-sea sponge than any kind of mug. Malleable Grid is spooky and flamboyant, with charred wood that shines like sequins from the wall. Eyespots is her strongest work, a steel behemoth that announces its femininity with two dainty, pink sheer squares pinned on as an afterthought.
Turner is the beneficiary of feminist foremothers who resisted the Minimalist dogma that forms only ought to be engaged with formally. If they made the case that gnarly, ultra-personal crafts could be as perfect as Judd's antiseptic ideals, they did so that Turner could let her freak flag fly.