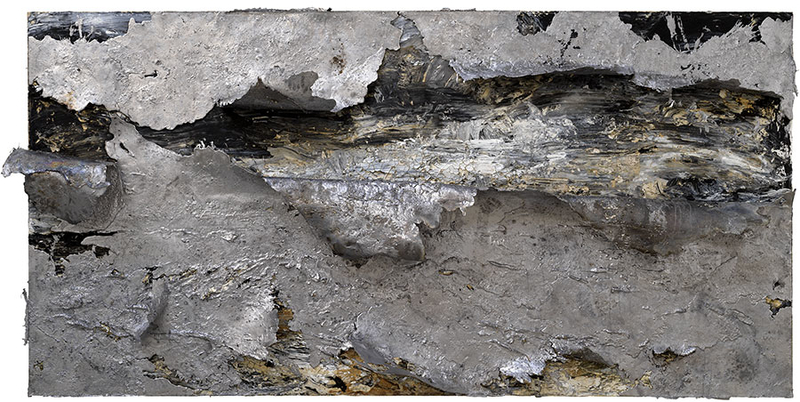 22 May 2017
Anselm Kiefer: Transition from Cool to Warm
Gagosian
Reviewed by Ashley Norwood Cooper
The familiar imagery of rebirth awakens in the masterful hands of Anselm Kiefer.
Epic paintings are executed with great attention to color temperature. Warmth erupts through frozen surfaces. In The Waves of Sea and Love, a sheet of crusty lead peels back to reveal hard layers of icy paint. Life bursts forth in red pustules and glistening black sap drips down the pale green surfaces of Aurora.
Gessoed pages of a series of more than forty artist's books thirstily absorb graphite, watercolor, gouache, and ink. The figures suggest Michelangelo's slaves as they attempt to rise. On some of the women the artist has drawn shackles. Others are held down by gesso poured over their hands and feet.
The potential for rebirth is confined in earthly death and each awakening struggles against the ground that facilitates it. By fully engaging with his materials, the artist-alchemist grapples with grand existential questions. The spiritual and the physical are inextricably bound.
Exhibition
Anselm Kiefer: Transition from Cool to Warm link
Start date
05 May 2017
End date
14 Jul 2017
Presenter
Gagosian link
Venue
522 West 21st Street, New York City, NY, USA map
Image
Anselm Kiefer, Des Meeres und der Liebe Wellen (The Waves of Sea and Love), 2017, oil, emulsion, acrylic, and lead on canvas, 74 7/8 × 149 5/8 × 17 inches, © Anselm Kiefer, photo by Georges Poncet, courtesy of Gagosian
Links

Reviews of current exhibitions near this one

Reviews by Ashley Norwood Cooper

Share
Facebook, Twitter, Google+